Wendesday, January 19
– Opening Day –
A Product Packed Show Floor, Valuable Education, and a Party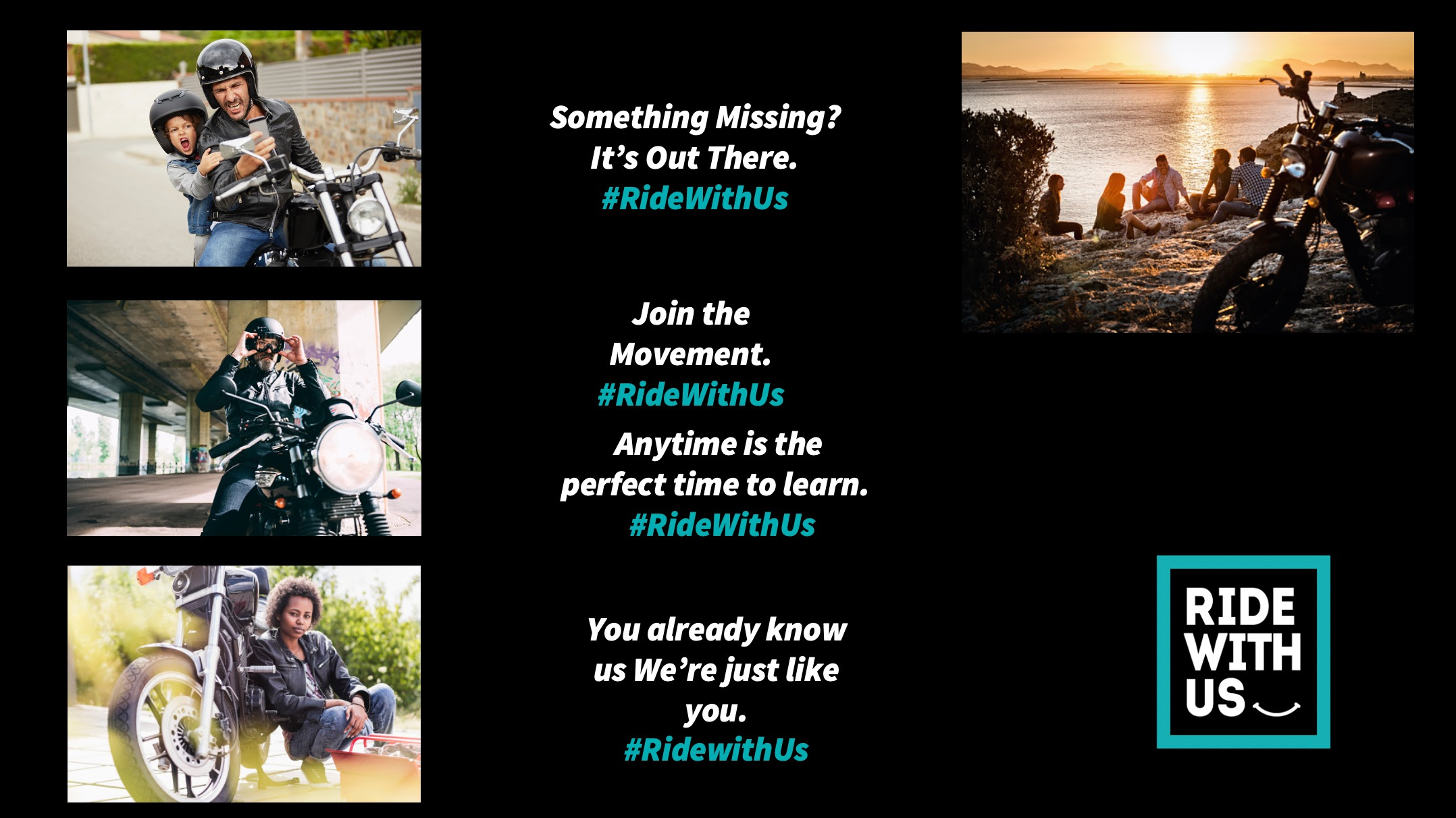 An Era of Community
AIMExpo's Opening Session
"It all comes down to community," said Cinnamon Kernes, the MIC's vice president of market expansion. "The lifestyle, the emotion, that's what brought people to riding."
For AIMExpo's opening session today, Kernes was joined on-stage by David Nour, CEO of The Nour Group, and both discussed the need for everyone across powersports to help boost and grow the community of riders nationwide.
"It really does take everybody," Nour said, calling on dealerships, companies, and everyday riders to give people a reason to join our community of motorcyclists.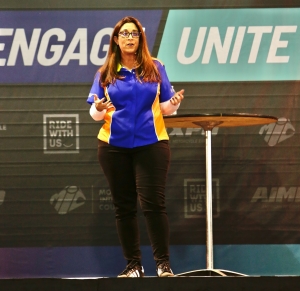 "Dealers, you are our first-responders," Kernes said. "We want to take the moto-curious and turn them into motorcyclists. We want to give dealers the tools, give them access to collateral we will be providing."
The MIC's Ride With Us is a brand, a campaign, a call to action, she said, built and being developed to amplify a unified voice about the joys of riding.
"It's no longer about the machine," Kernes said. "It's about welcoming everyone."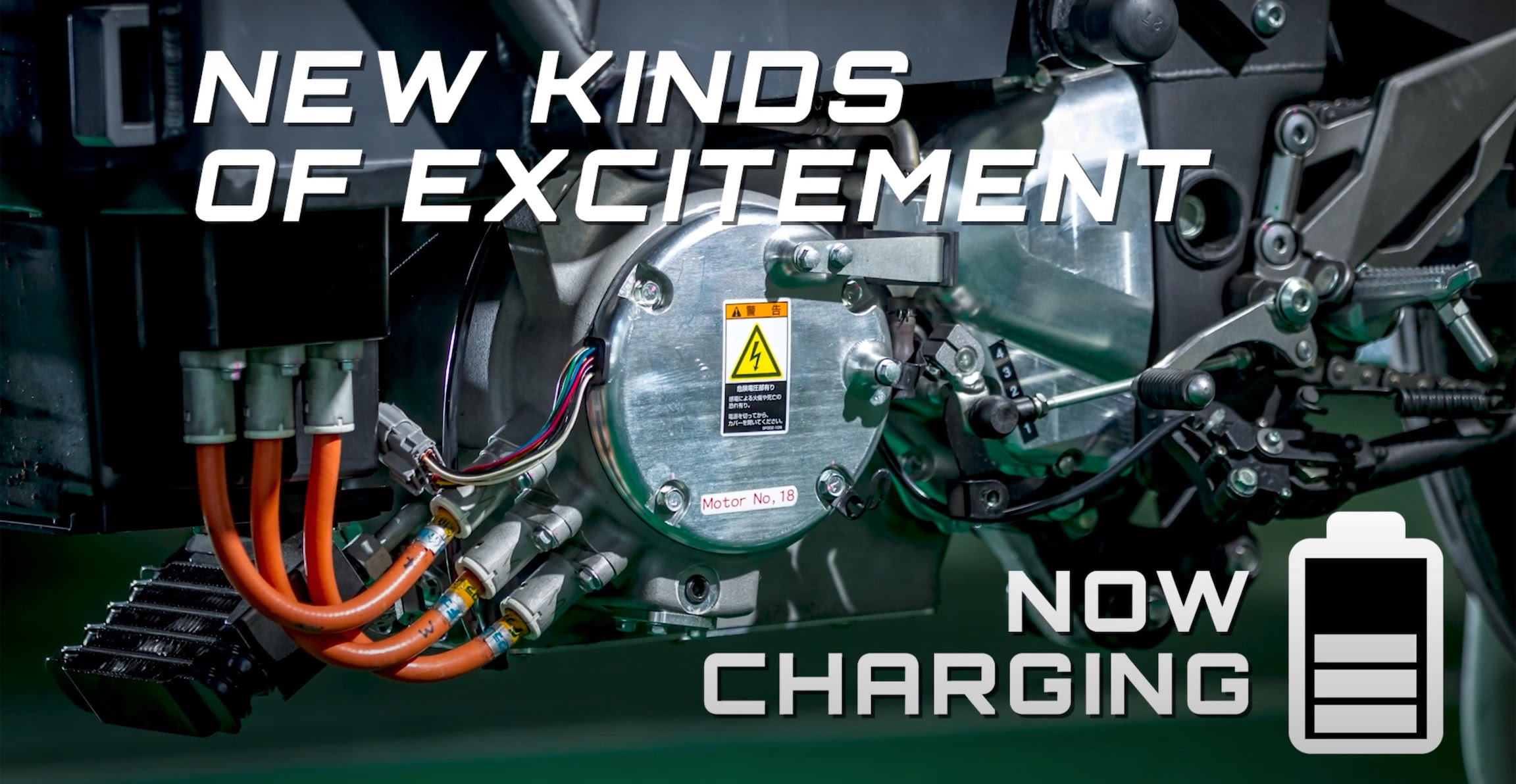 Electrification
Panel Peers Into a Charged Up Future
More and more electric powersports vehicles will be coming to market in the next five years and the industry will be adapting and changing as more customers get charging.
Three panelists at the MIC Symposium agreed to that during today's session on the coming electrification of powersports, the first of two panels on this topic this week at AIMExpo.
"That's just the way it is," said Marc McAllister, president and CEO of Tucker Powersports. "I mean whether we like it or not there is going to be continued pressure to be carbon neutral from government agencies."
That said, gasoline and internal combustion engines aren't going anywhere for a long time, McAllister said – with agreement from Bill Jenkins, senior vice president, sales and operations, Kawasaki Motors Corp., USA, and also Dan Quick, communications director for Zero Motorcycles. But the upshot is that electric motorcycles, in particular, may well help expand the market with their clutchless, shift-free ease of operation.
"I would much rather have this conversation be about how are we adding to those ICE customers…or bringing in new customers to powersports by giving them easier entry points into the industry with a twist-and-go or less intimidating experience and building a bigger broader church," McAllister said.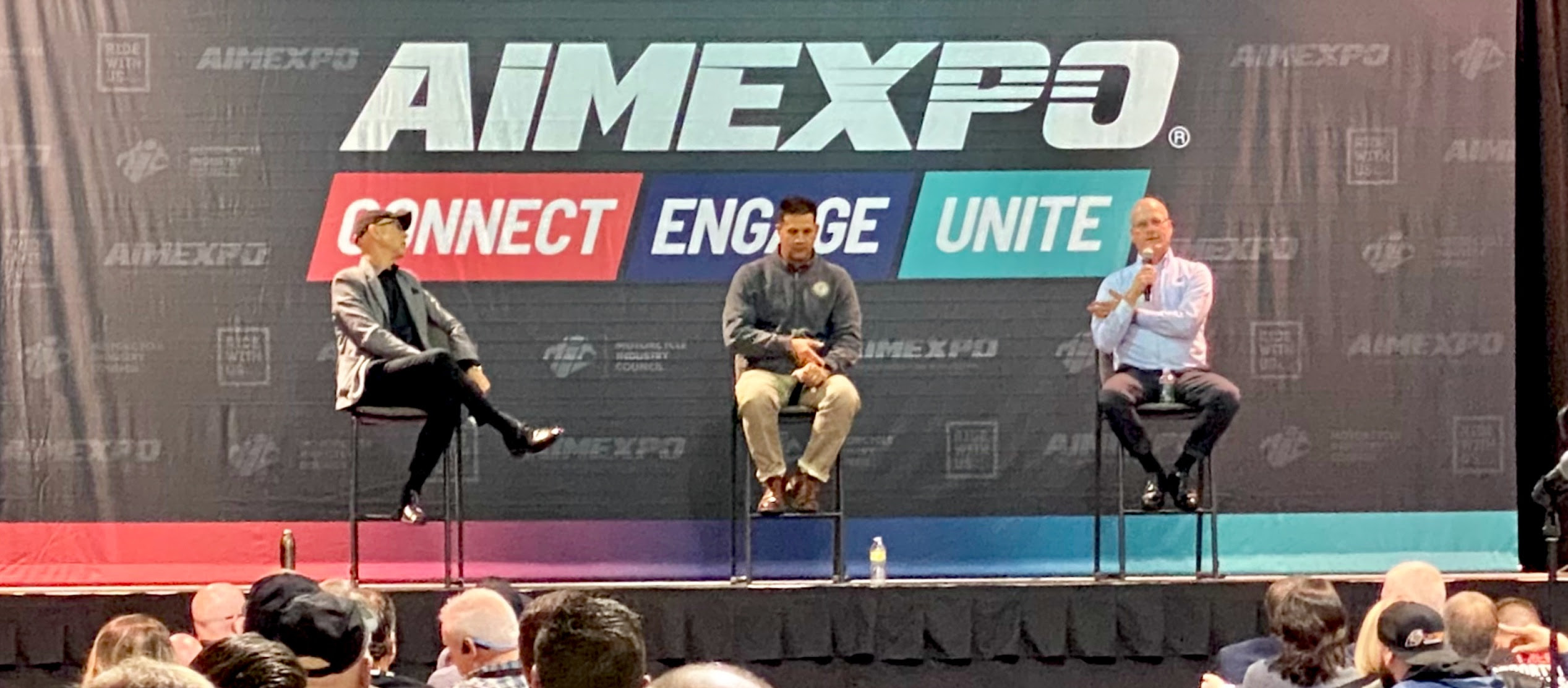 MIC Symposium
Last Year was Great, This Year Could be Legendary
One hour into North America's largest motorcycle and powersports trade show, a three-man panel of industry experts delivered key insights surrounding talent acquisition, digital retailing, navigating inventory, the differences they see between strong and average retailers, and more.
"For AIMExpo attendees, this may be the most important 90 minutes of your year," said moderator Mark Rodgers of Rodgers Performance Consulting.
Joining Rodgers – during what was also the first in-person MIC Symposium since 2019 – were Tony Gonzalez of Garage Composites; Pat Kennedy from the Spader business consulting group; and Gart Sutton, industry consultant and fourth-generation retailer.
"Don't operate out of fear, but operate out of knowledge," Gonzalez said. "This market will reflex back into something that we are more familiar with. It may go down, it may continue up. Really have your nose to the grindstone and watch your numbers and see what's going on with your traffic logs, what's going on with your profitability."
Monimoto 7
New Product Presentation
Monimoto 7 is a brand new wireless GPS tracker for motorcycles, ATVs, and UTVs. Monimoto 7 is an affordable, easy-to-use, reliable, smart GPS tracker with more than a year's battery-life that cleverly alerts your phone if your motorcycle is moved. Featherlight, and completely wireless, it doesn't need to be professionally fitted, making it independent from the bike's own battery and electrics. The tracker is set up in minutes and can be hidden easily. Since its debut in 2017, Monimoto has been skyrocketing. It is now offering peace of mind to more than 20,000 happy riders in over 50 countries.
Visit Monimoto at booth 4048

California Heat Hybrid Heat Controller
New Product Presentation
With the Hybrid Heat Controller from California Heat you can now power 7V battery-powered heated gear using a motorcycle, powersport vehicle, or any 12V accessory port.
Three Ways To use:
Use a 12V power source to heat a 7V battery-powered item
Use a 12V power source to charge a 7V battery
Do both at the same time!
Compatible with other 7V battery-powered brands that use the same plugs, including push-button heated gear. Charge other brand 7V batteries that use the same plugs. Controller has three heat settings. All controllers are covered by a two-year warranty. Use your 7V battery-powered heated clothing for any outdoor activity PLUS connect it directly to your 12V motorcycle or powersports vehicle to extend riding season and ride warm.
California Heat: booth 5045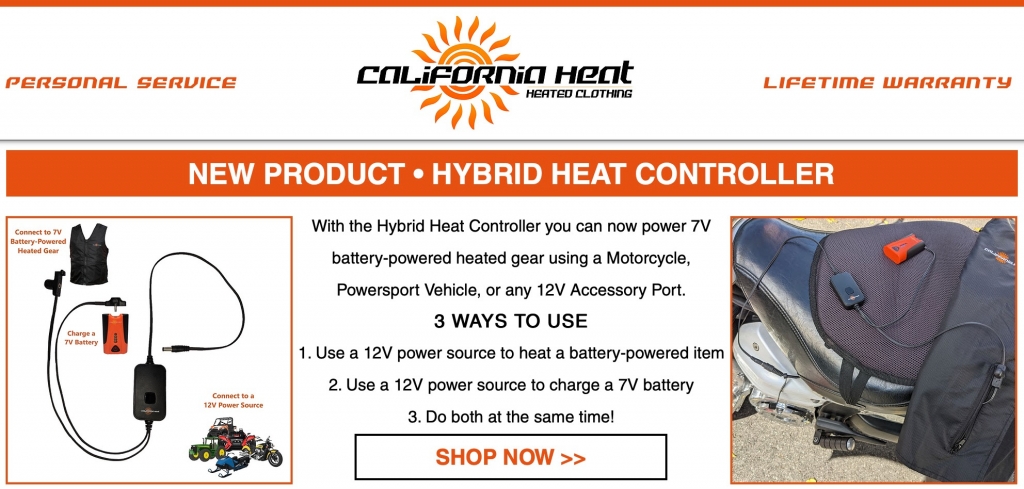 Arnott Rear Air Suspension
New Product Presentation
Arnott is showcasing rear air suspension for all Indian Motorcycle Challenger models.
Arnott: booth 2023

BellissiMoto ABT Stands
New Product Presentation
Randy from BellissiMoto has partnered with James from American Bike Tailor to create ABT Stands, "The New Standard in Stands." They are made in the USA and feature omni-directional wheels, removable handles, axle holders, chromoly steel construction, and they disassemble to offer cheaper shipping and lay-flat storage, with nice storage bags included. We drop ship with no additional fees. We allow our dealers to sell online. We enforce a 100 percent MAP policy to protect your margins. Accepting new dealers within the USA and new international distribution requests now.
BellissiMoto: booth 9023

Fussini Teak and Gold
New Product Presentation
Fussini is showcasing new innovation in helmets and motorcycles customized in teak tree and gold.
Fussini: booth 3049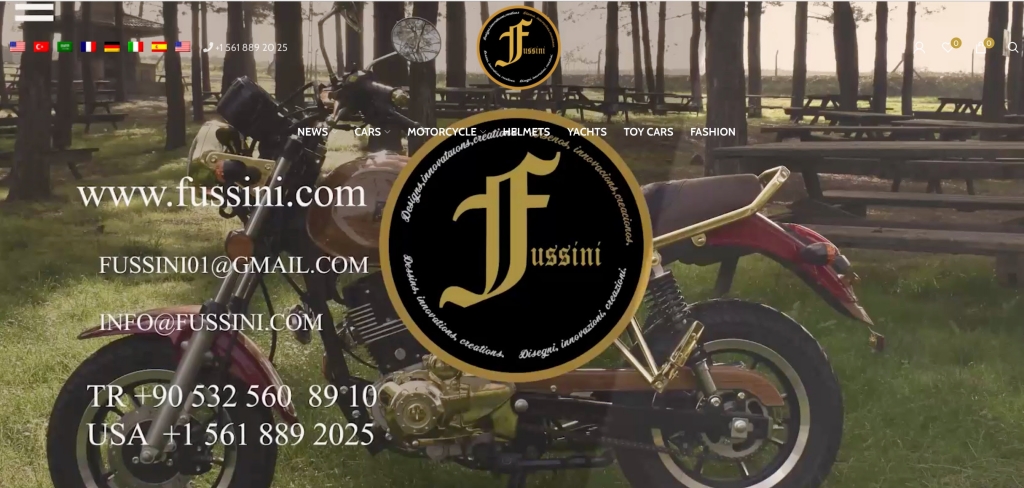 Braap Motorcycles
New Product Presentation
Braaap is introducing a line of internal combustion and electric motorcycles to America. Crusiers, sport bikes, dirt bikes. This 15-year-old company is now moving into the USA.
Braaap: booth 1011

Patriot Asset Management
New Product Presentation
Patriot Asset Management's Connected Recreational Intelligence is a revolutionary product that offers your dealership new revenue opportunities in F&I, service, and sales. CRI is non-cancellable and offers customers stolen motorcycle recovery, $5,000 theft benefits, theft protection geo-fences, instant location, low-battery alerts, tamper alerts, maintenance reminders, and more.
F&I Benefits
– NEW revenue with PAM smartphone consumer app
– Extremely HIGH sell-through penetration with $5K theft benefit
– Valuable consumer benefit
Service Department
– Real-time mileage-based retention tools for service
– Improved service retention and LOYALTY
– Increased service traffic
Optional inventory asset protection and management
– Track inventory across multiple lots
– Dealership THEFT PROTECTION alerts
– Daily low-battery reports
Smartphone app marketing
– Marketing messages to customer based on actual mileage
– Stay CONNECTED with your customers for FUTURE sales
– "Branded" dealership app available
Patriot Asset Management: booth 3028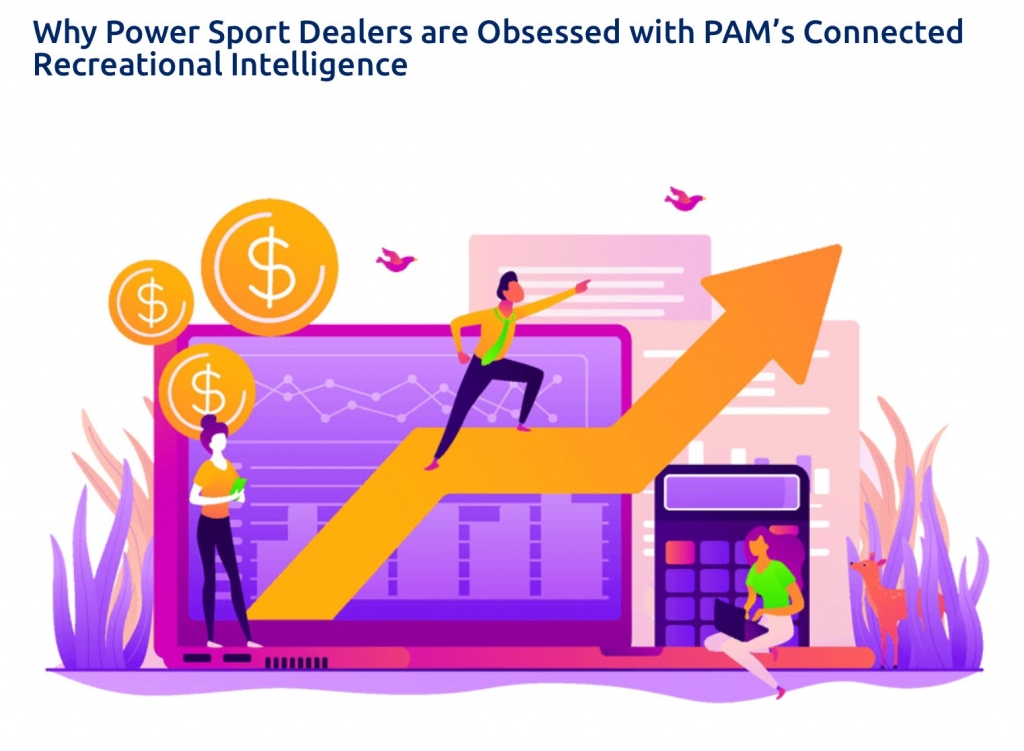 Recharge Your Phone and Yourself
Visit ZiiDMS on the Show Floor
Centrally located on the show floor, the ZiiDMS Dealer Recharge Zone is the place where dealers can take a break, recharge, and refresh anytime during show hours. The ZiiDMS Dealer Recharge Zone will feature soft seating, recharge stations, and a bar serving refreshments at booth 4060.
And don't miss the ZiiDMS booth 5066 nearby to preview the new Enterprise Dealer Management System.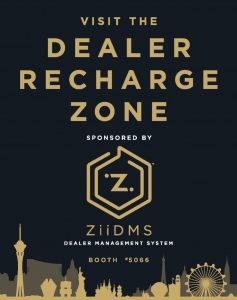 Tomorrow at AIMExpo
Don't Miss the G.O.A.T.
THURSDAY Show Hours: 9 am to 6 pm – South Hall, Level 1
AIMExpo Education DISRUPTIVE THINKING:
Managing by Metrics Rather Than Emotions
10 am to 10:45 am – Show Floor
With Tony Gonzalez, Garage Composites
Pandemic Problems – How to Thrive, Not Just Survive
11 am to 11:45 am – Show Floor
With Jared Burt, Hero Hub; and Bill Nash, Matt Petrovich, Brian Kane of Nash Powersports
Winning the War for Talent
1:30 pm to 2:15 pm – Show Floor
With Mark Rodgers, Rodgers Performance Consulting
Cultivating a Community of New Riders
2:30 pm to 3:15 pm – Show Floor
With Jared Burt, Hero Hub; and Bill Nash, Matt Petrovich, Brian Kane of Nash Powersports
MIC Symposium: Mind of a Champion
5 pm to 6 pm – Show Floor
With Ricky Carmichael, keynote speaker
Ricky Carmichael Meet and Greet: 6 pm to 6:30 pm – Show Floor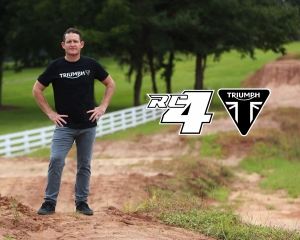 CLICK HERE for the Week's AIMExpo Education Schedule and Speaker Lineup
CLICK HERE for the Floor Plan and Exhibitor List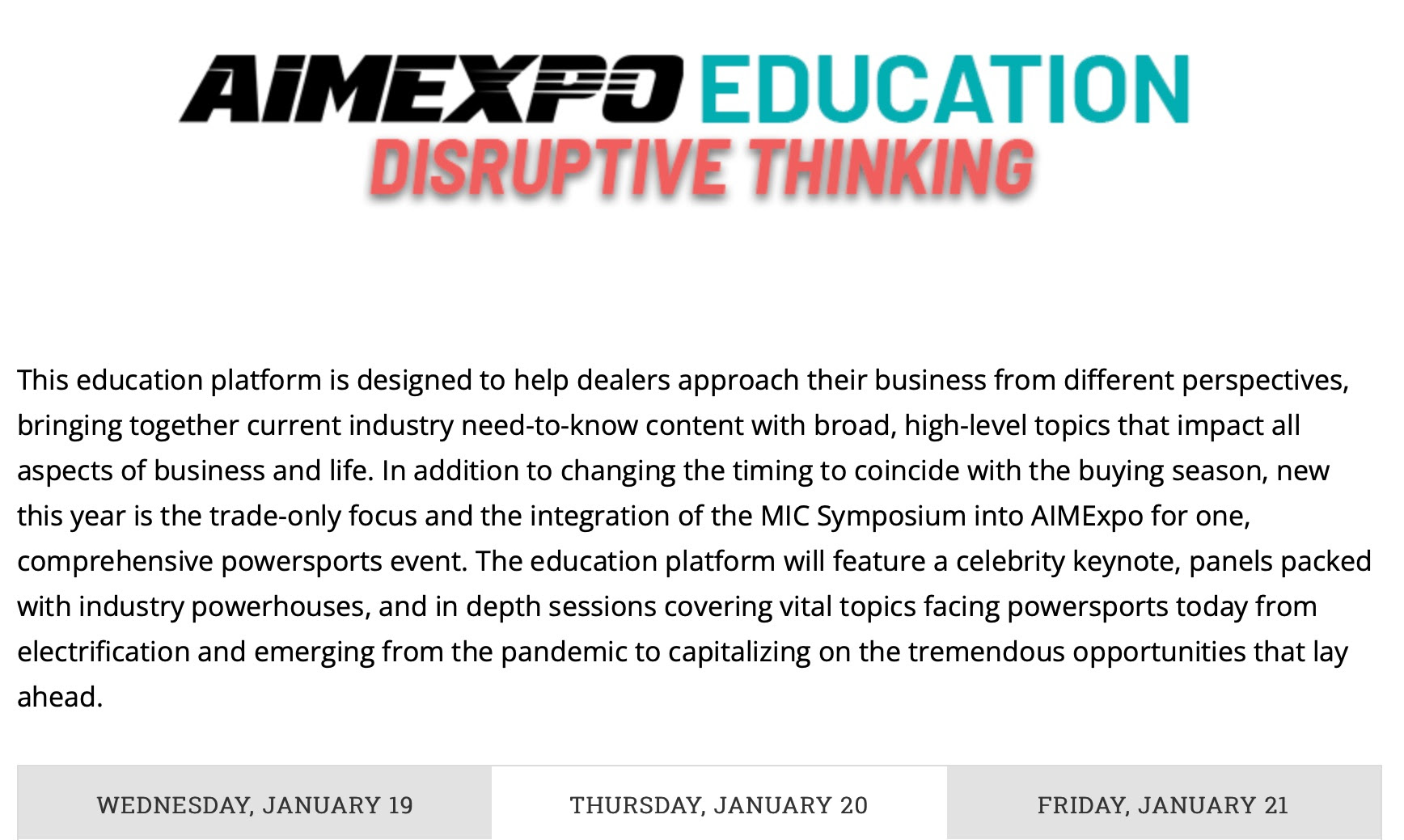 The MIC Business Center
Exclusive AIMExpo Benefit for MIC Members Only
MIC members are invited to enjoy exclusive benefits inside the MIC Business Center, Tuesday through Friday at AIMExpo. And that includes breakfast and lunch.
Amenities in the members-only MIC Business Center include: phone recharging stations (Apple and Android), printers, computer stations, Wi-Fi, all-day coffee, private meeting rooms, plus MIC and AIMExpo staff on-hand to answer questions.
Breakfast will be served at 8 am and lunch at 12 pm. Please note that breakfast, lunch, and meeting rooms are on a first-come, first-serve basis and there is a two-hour max each day, per company, for the meeting rooms.
The MIC Business Center is on level one of the South Hall at the Las Vegas Convention center, booth 9009, near the main entrance.
MIC Business Center Hours
Thursday: 8 am to 6 pm
Friday: 8 am to 2 pm

Get Those MIC Member Benefits
AIMExpo Exhibitor Credit and Much More
AIMExpo attendees who are not yet MIC members are invited to contact and meet with Membership Manager Lisa Delaney inside the MIC Business Center, Tuesday through Friday.
"The MIC has a lot to offer members, and we want everyone to understand the far-ranging benefits, not only for companies, but for powersports as a whole," Delaney said. "With legislative matters, with public land issues, businesses do much better standing together as one powerful industry force. And we support MIC members through regular communication aiming at our tangible membership benefits: advocacy, industry research, market expansion through Ride With Us, as well as our excellent monthly symposiums that provide professional development opportunities and keen insights on industry trends."
What's more, MIC members earn a $200 credit per 10′ x 10′ of AIMExpo floor space, with a maximum up to 50 percent of total annual MIC dues.
A wide variety of powersports businesses can join and benefit from MIC membership. And any powersports dealer can join the MIC for only $495 a year. Lean more at the MIC Business Center on level one of the South Hall at the Las Vegas Convention center, booth 9009, near the main entrance.