Thursday, January 20
– Lots of DISRUPTIVE THINKING –
Education on the Show Floor and the G.O.A.T. Speaks
Contents
Ricky Carmichael's Championship Mind / Mega Management / Thriving Not Surviving / Attracting Talent / Cultivating Community / New Products / Recharging / Friday at AIMExpo / Education Schedule / Floor Plans and Exhibitors / The MIC Business Center / MIC Membership
See Day 1 Show Daily HERE
See Day 3 Show Daily HERE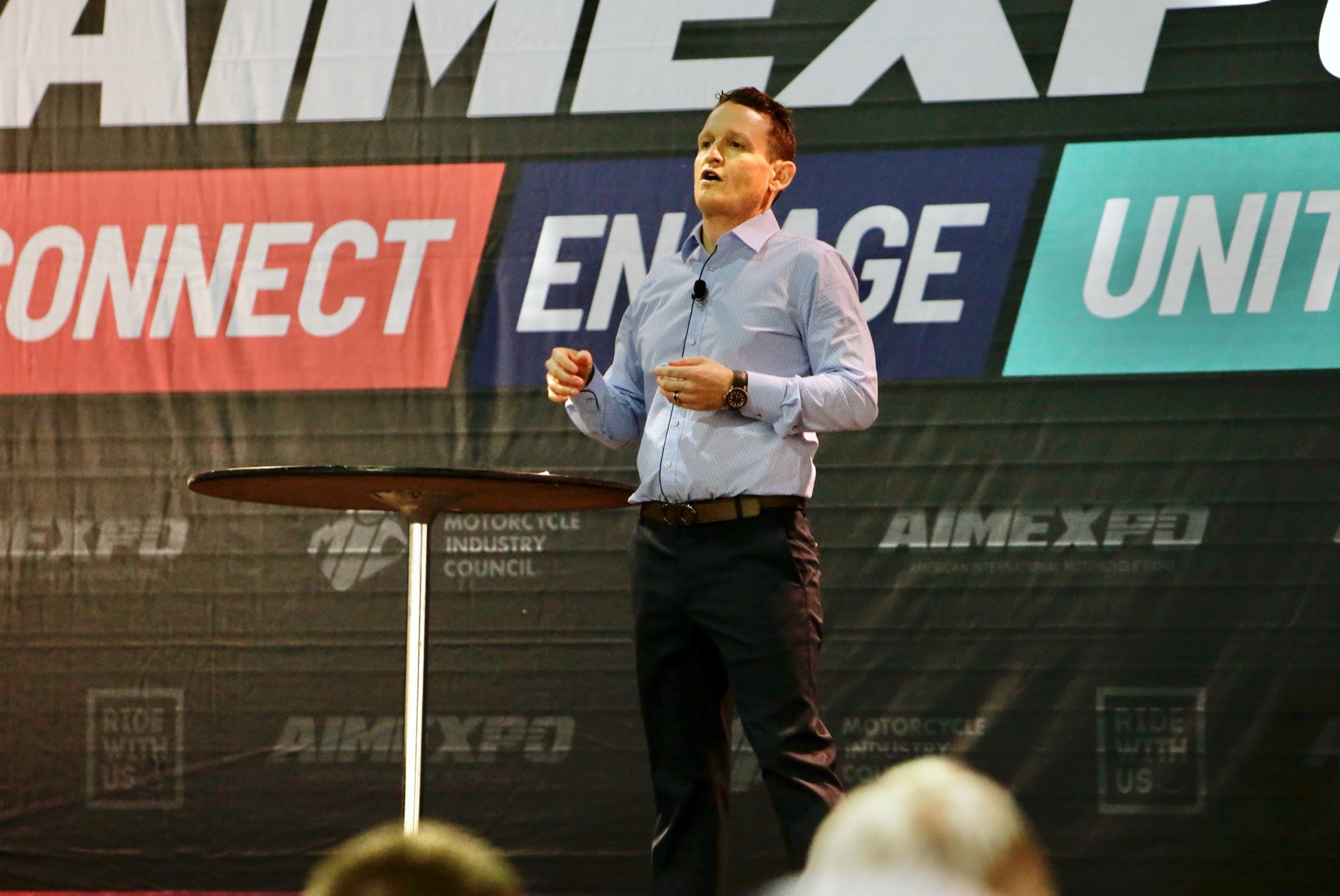 The G.O.A.T. Goes On Stage
Inside the Mind of a Champion
Motocross legend Ricky Carmichael, regarded as the greatest of all time, took the stage to wrap up the day at AIMExpo and he shared stories about growing up as a young racer, working hard to honor his supportive parents, and what it takes to have the mind of a champion.
"It was always: Give it 100 percent," Carmichael said. "And being honest with yourself. And never giving up."
A holder of many off-road racing records and a factory rider for Kawasaki, Honda, and Suzuki, the five-time AMA Supercross champion and 10-time AMA Motocross champion recalled epic battles with other racing greats – Jeremy McGrath, James Stewart, Chad Reed – and talked about what he believes it takes to be the best.
Carmichael said to do things right or not at all. Have realistic expectations. Respect your competitors and treat everyone around you the same. And have no regrets after putting in a 100-percent effort – there are no do-overs.
That said, he did admit to some regret about not celebrating his race wins as much as he could have at the time. So he added one more thing about success: Enjoy it.
Following his address to the AIMExpo audience, Carmichael had a meet and greet on the show floor, signing autographs and taking pictures with fans.
While maintaining his schedule as a TV commentator for the AMA Supercross series, Carmichael is doing even more industry work, having recently joined the Triumph family – as a brand ambassador and partner in both bike testing and preparation for the manufacturer's upcoming off-road racing program.

Managing by Metrics
Rather Than Emotions
Tony Gonzalez, AIMExpo's early morning speaker today, wants us all to get real. And get into actual numbers. While he hears many complaints across powersports about supply being a huge issue, he also hears from dealers that they haven't made this much money in an 18-month span in years.
Gonzalez, with Garage Composites, wants us all to stop making moves based on seat of the pants feel and obtain and use hard data to make better, more effective, more profitable decisions.
"We have taken our eyes off of quite a bit of information out there that is super important," he said. And, armed with the right data, Gonzales wants dealers to think differently, in all departments, from parts and service to sales.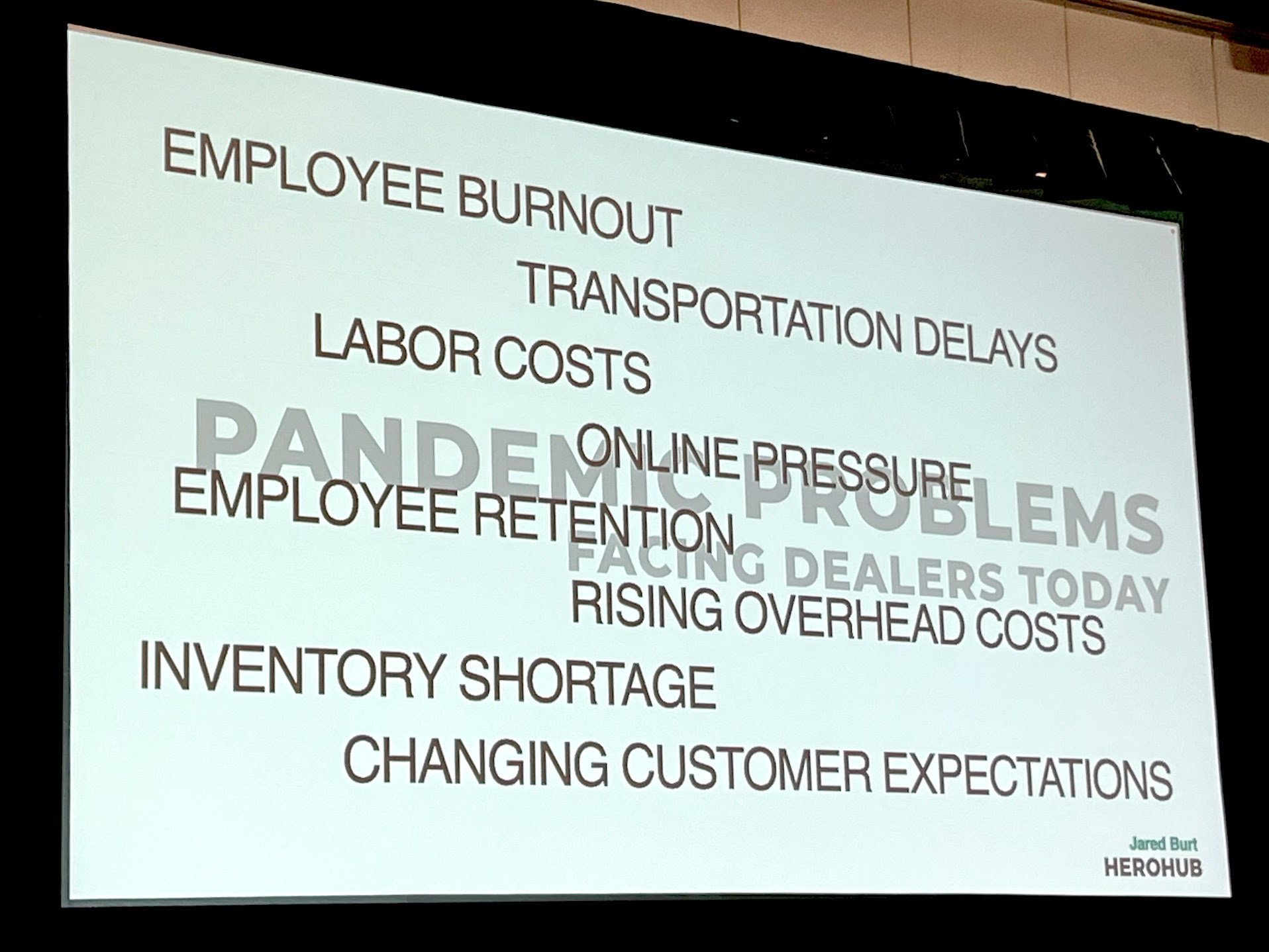 Thriving Not Just Surviving
Persevering Through a Pandemic
The second AIMExpo educational session today focused on the one major topic affecting everyone across powersports. For a discussion on the global pandemic, how it's changed business, and how to make it through these times, Bill Nash, owner of Nash Powersports, joined his Director of Marketing/Operations, Matt Petrovich, and the company's Director of Operations, Brian Kane, on-stage on the show floor.
Moderating the talk was Jared Burt, founder and CEO of HeroHub, and the news, like sales since 2020, wasn't all bad.
"We have an awesome customer base," Burt said. "Customers want to come in."
HeroHub's Powersports Preferences Survey found that with 89 percent of powersports owners, COVID has not affected the way they purchase powersports vehicles. Before COVID, 2 percent preferred to have their new vehicle delivered – after COVID, that number only rose to 8 percent. But, 95 percent said they would prefer to start their vehicle purchase online. And with parts and accessories, 81 percent of owners said they were most likely to buy online in the future.
Stepping back from the data, Burt made a big-picture comment and noted that with powersports enthusiasts choosing to live their lives and continuing to ride and drive, there's greater meaning to our business than just running dealerships and making a profit.
Attracting Talent
Assembling and Building a Strong Team
Mark Rodgers of Rodgers Performance Consulting said that world of work has changed and powersports employers must also change if they hope to have talented staff members.
"Everyone is calling this the great resignation," he said during his AIMExpo presentation today, referring to the many American workers who have left their jobs during the pandemic. "It's not the great resignation. What it is is the great renegotiation. Workers have some power. It's a talent market."
What can dealers and powersports companies do? Rodgers went through his list of key suggestions while talking with a number of audience members about their experiences as employers and employees. Certainly, he said, competitive compensation and knowing the market in your area matters a lot.
"In sales, do they have unlimited earning potential?" Rodgers asked. "That's what's going to attract talent. If you don't have a 401k, if you're not thinking about matching, if you have no medical benefits, vision, dental…those are just the starting points for you to be able to get in the game."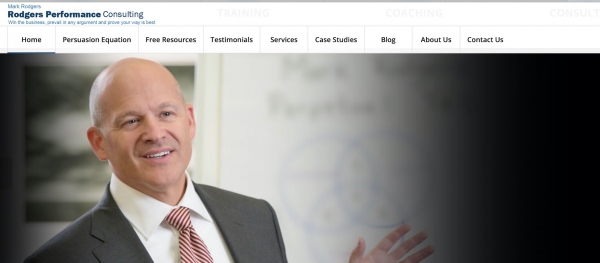 But people want more than just money today and he said that fun is a factor, too. To find great talent, LinkedIn can be a start, but it may also require advertising or even hiring a recruiter, he said. Assembling a strong team can take time and patience, Rodgers said, and keeping team members onboard can mean that employers have to show there are career-building opportunities at the company, with mentoring and training.
He challenged everyone in the audience to think about the best manager they ever had, and think about what they learned from that experience and how to be more like the supervisor they admired.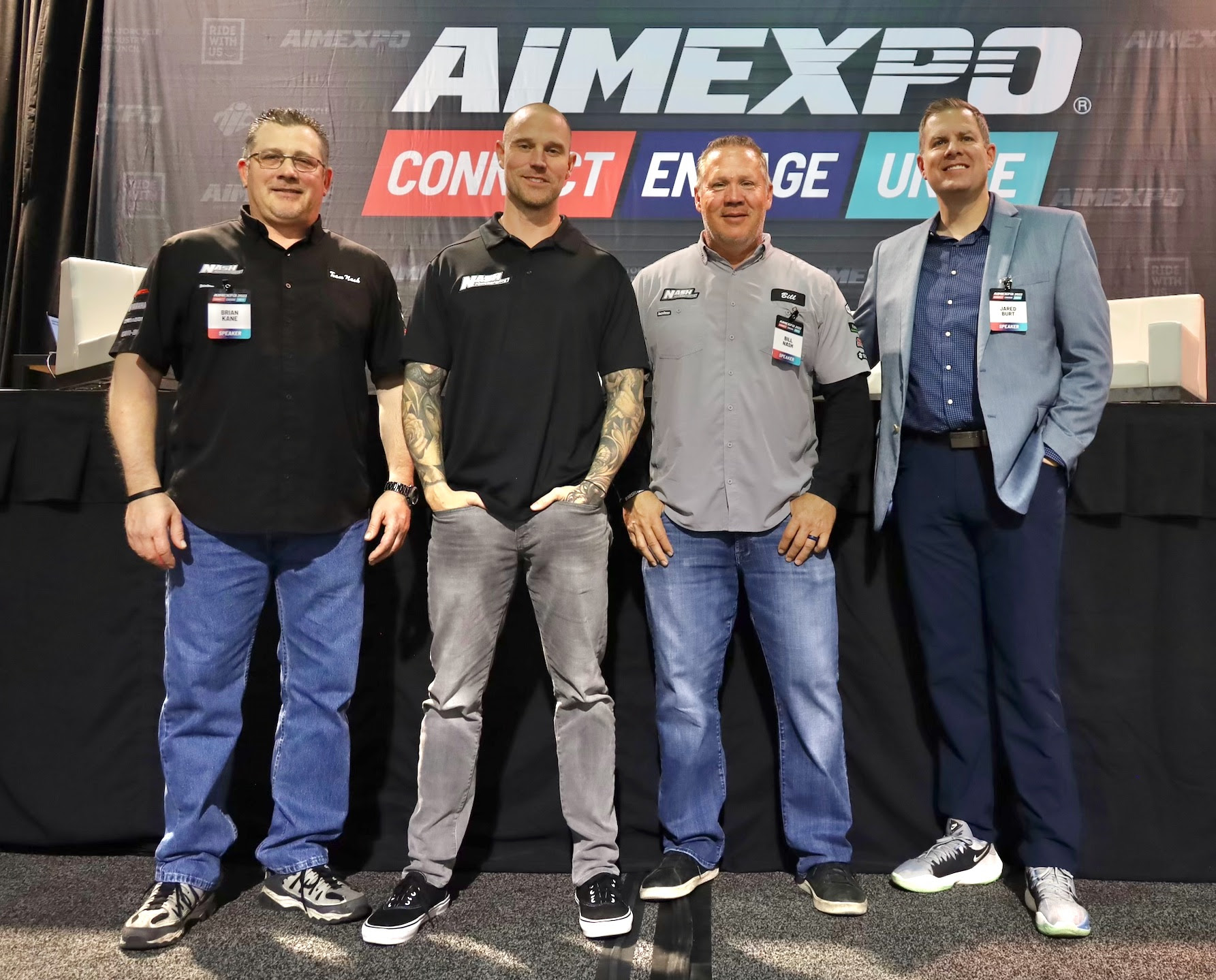 Cultivating Community
Creating and Nurturing New Riders
Jared Burt, founder and CEO of HeroHub, asked the audience at AIMExpo today just who is responsible for training and mentoring the new riders being pursued by the powersports industry, and what role dealers could play.
He was joined on stage by dealer owner Bill Nash, of Nash Powersports, along with his Director of Marketing/Operations, Matt Petrovich, and the company's Director of Operations, Brian Kane. And Burt asked them if developing new riders should be left to riding schools and manufacturers.
"Last time I checked, none of those guys wrote checks to me," Nash said. "The customers do, and those are the people I want to get in front of."
Burt also spoke about the industry-wide market expansion initiative Ride With Us, created by the Motorcycle Industry Council – which has already put hundreds of potential customers on motorcycles, in closed areas, with guidance from certified coaches, for their first powered two-wheel experience.
"Ride With Us is rider-focused to enable their journey," Burt said. "Ultimately so they can become part of an epic community. I hope we're thinking about dealers (being) a huge part of that."
SportBike Chic SV Shell
New Product Presentation
Known for their innovative approach to women's motorcycle apparel, SportBike Chic™ is pleased to announce the launch of their patent-pending "SV Shell," which is no doubt a game-changer in motorcycle jackets.
The SV Shell is all about combining versatility and protection in one changeable motorcycle jacket. The base shell has a removable outer overlay that allows one to change colors with a simple zip. In addition, the outer layer can be embellished as desired without interfering with the protection underneath.
Another great feature of the base shell is the protection that it provides. The shell has durable, fire-retardant, abrasion-resistant protection made of para-aramid fibers, along with adjustable CE level 2 armor (shoulder, elbow, and back). SportBike Chic™ takes "Motorcycle Gear for Women" to the next level, once again, with the SV Shell.
SportBike Chic: booth 6047

N2 Plastic Fuel Pouch
New Product Presentation
N2 Plastic pouches are a safe, convenient means of transporting fuel for motorcycles, cars, snowmobiles, jet skis, ATVs, UTVs, and 4x4s. Made of double-layered polyethylene plastic that rolls up and packs flat when empty, can hold two gallons of fuel, weighs 4.5 ounces, and measures four inches wide, five inches tall. N2 Plastic pouches can also be filled to store gas on long trips to refuel when a gas station is not accessible.
N2: booth 3035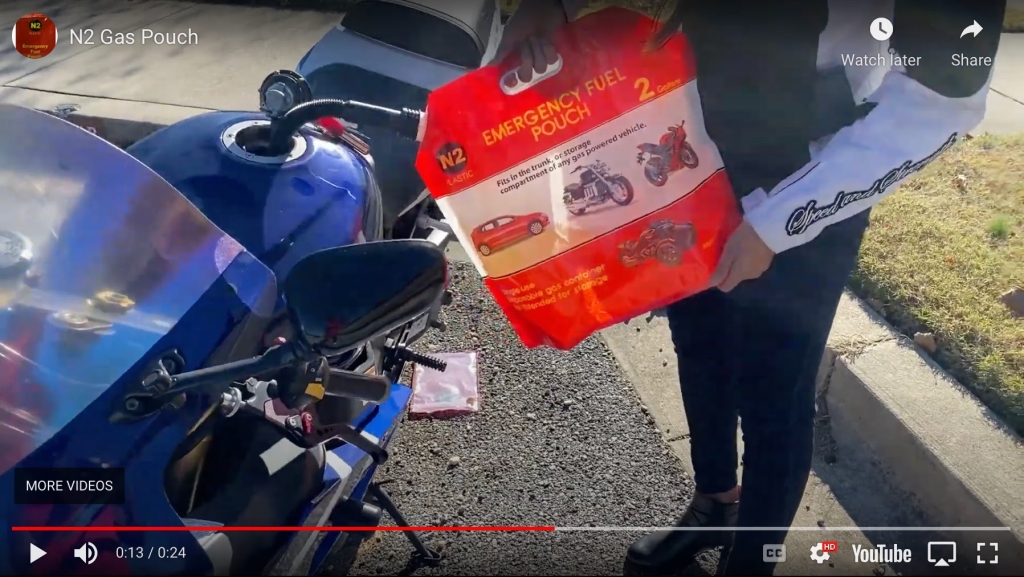 Klean Freak Body Wipes
New Product Presentation
Klean Freak has an individually wrapped body wipe perfect for on-the-go users who need to clean up after a day in the dirt. And amazing scents that leave you feeling refreshed and clean.
Klean Freak: booth 7052

Reggiane ReRising e-Bike
New Product Presentation
"ReRising" is an Italian, electric, foldable bike designed for a better way to move around. Unmatched performance and design. The pinnacle of elegance and utility. Every detail of the bike is engineered to go the distance and keep you cycling smooth. A removable battery that can serve as power bank, is the bike's signature detail.
250 – 750W Motor Power
45 avg Miles per Charge*
275lb Max Payload Capacity
48V Lithium-Ion Battery
*The value is considered for a 75 kg person on a flat road and at medium speed.
Reggiane Engineering: booth 8072.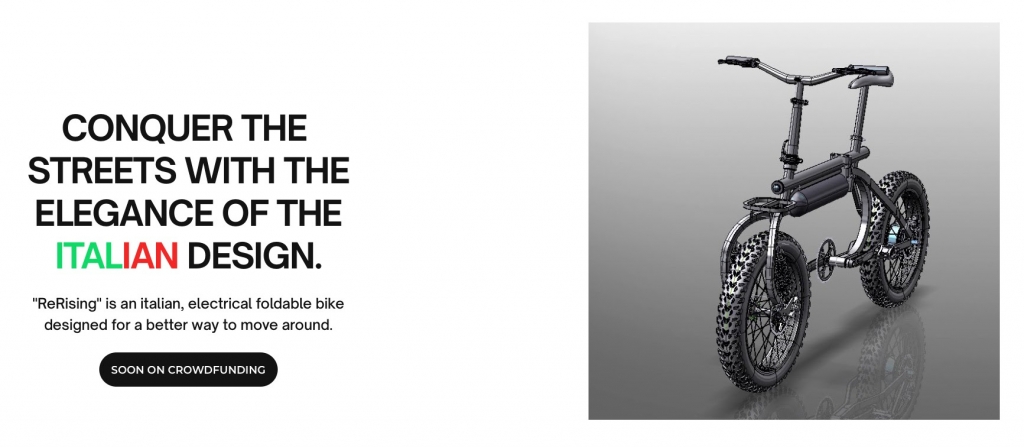 Dayco Power CVT Belts
New Product Presentation
Dayco, a leading engine products and drive systems supplier for the automotive, industrial and aftermarket industries, is shaking up the powersports market with its portfolio of Dayco POWER CVT belts. The new line includes a full range of specially engineered belts for various riding levels and engine sizes, including an extreme-performance belt for heavily modified vehicles with engines over 800cc.
With more than 200 part numbers, Dayco's new line was designed and engineered by the company's very own powersports enthusiasts to provide a range of premium options based on engine size, horsepower range, modifications, and riding level, from leisure trail riding to extreme sports. Currently, there are four belts in the POWER lineup: HP™, HPX®, XTX™ and RPX®. A fifth belt, POWER CTX™, will be available in Q3 and is designed to outperform and outlast OE belts in lab and real-world testing.
Dayco: booth 7017

Recharge Your Phone and Yourself
Visit ZiiDMS on the Show Floor
Centrally located on the show floor, the ZiiDMS Dealer Recharge Zone is the place where dealers can take a break, recharge, and refresh anytime during show hours. The ZiiDMS Dealer Recharge Zone will feature soft seating, recharge stations, and a bar serving refreshments at booth 4060.
And don't miss the ZiiDMS booth 5066 nearby to preview the new Enterprise Dealer Management System.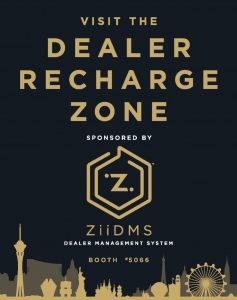 Friday at AIMExpo
Last Day of Disruption
FRIDAY Show Hours: 9 am to 2 pm – South Hall, Level 1
AIMExpo Education DISRUPTIVE THINKING:
Digital Marketing 301: Accsellerate® Your Digital Results!
9:30 am – 10:30 am – Show Floor
With Mark Rodgers, Rodgers Performance Consulting
Electrification of Powersports, Part II
10:30 am – 11:30 am – Show Floor
With Travis Manton, Evolve; John Klinger, MiniMotors USA; and Ethan Ralston, UBCO
CLICK HERE for the Week's AIMExpo Education Schedule and Speaker Lineup
CLICK HERE for the Floor Plan and Exhibitor List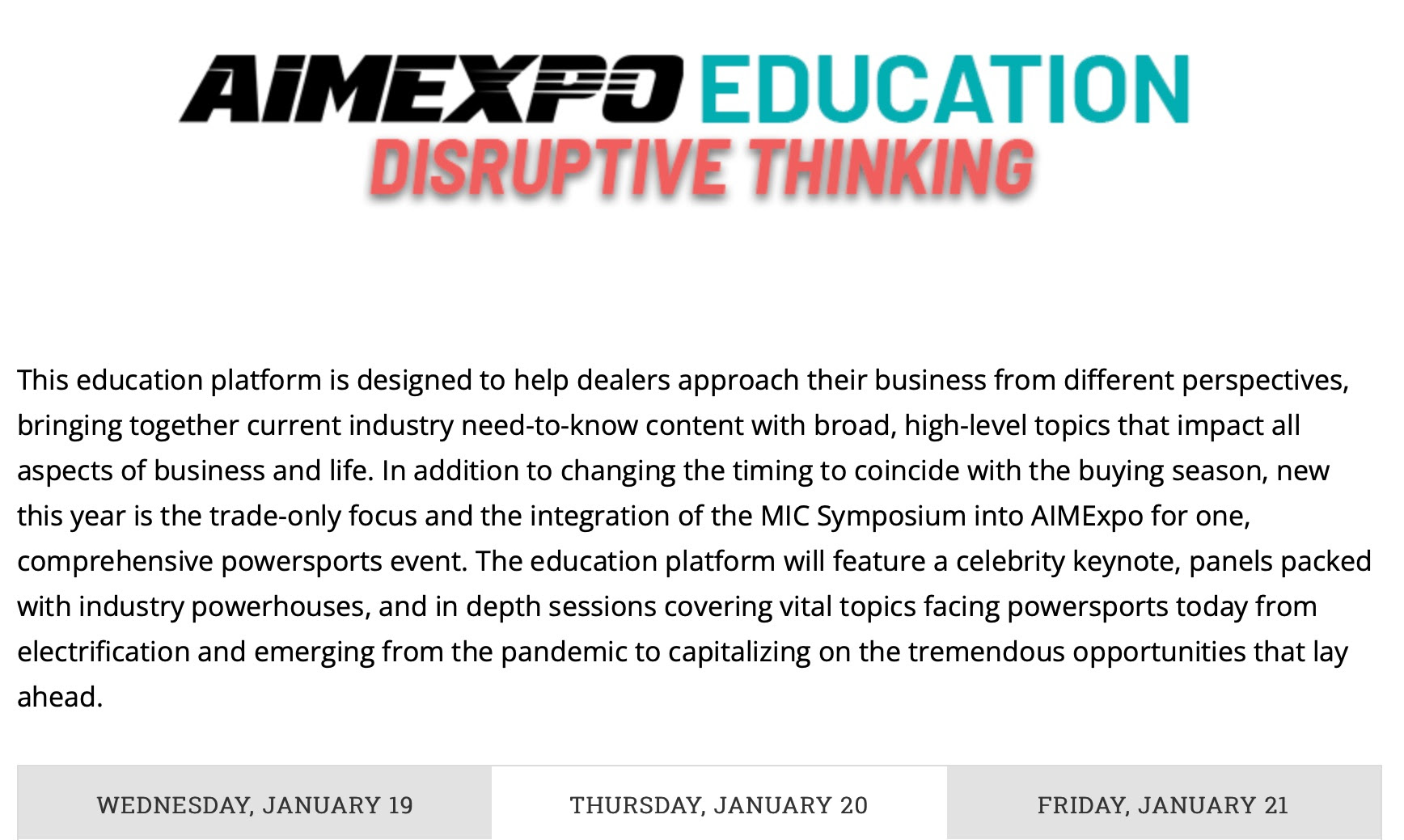 The MIC Business Center
Exclusive AIMExpo Benefit for MIC Members Only
Exclusive AIMExpo Benefit for MIC Members Only
MIC members are invited to enjoy exclusive benefits inside the MIC Business Center, Tuesday through Friday at AIMExpo. And that includes breakfast and lunch.
Amenities in the members-only MIC Business Center include: phone recharging stations (Apple and Android), printers, computer stations, Wi-Fi, all-day coffee, private meeting rooms, plus MIC and AIMExpo staff on-hand to answer questions.
Breakfast will be served at 8 am and lunch at 12 pm. Please note that breakfast, lunch, and meeting rooms are on a first-come, first-serve basis and there is a two-hour max each day, per company, for the meeting rooms.
The MIC Business Center is on level one of the South Hall at the Las Vegas Convention center, booth 9009, near the main entrance.
MIC Business Center Hours
Friday: 8 am to 2 pm

Get Those MIC Member Benefits
AIMExpo Exhibitor Credit and Much More
AIMExpo attendees who are not yet MIC members are invited to contact and meet with Membership Manager Lisa Delaney inside the MIC Business Center, Tuesday through Friday.
"The MIC has a lot to offer members, and we want everyone to understand the far-ranging benefits, not only for companies, but for powersports as a whole," Delaney said. "With legislative matters, with public land issues, businesses do much better standing together as one powerful industry force. And we support MIC members through regular communication aiming at our tangible membership benefits: advocacy, industry research, market expansion through Ride With Us, as well as our excellent monthly symposiums that provide professional development opportunities and keen insights on industry trends."
What's more, MIC members earn a $200 credit per 10′ x 10′ of AIMExpo floor space, with a maximum up to 50 percent of total annual MIC dues.
A wide variety of powersports businesses can join and benefit from MIC membership. And any powersports dealer can join the MIC for only $495 a year. Lean more at the MIC Business Center on level one of the South Hall at the Las Vegas Convention center, booth 9009, near the main entrance.