What To Do In Las Vegas Part 2: Stay and Play at Mandalay Bay
The American International Motorcycle Expo presented by Nationwide will bring North America's premier powersports trade show to the entertainment capital of Las Vegas this October, for what is scheduled to be the ultimate week-long celebration of motorcycling. The already bustling city will be filled with enthusiasts from around the country, taking in the sights and sounds of Powersports Industry Week℠, which includes Las Vegas BikeFest, the Monster Energy Cup, and of course, AIMExpo presented by Nationwide.
In addition to the myriad of motorcycling festivities taking place during Powersports Industry Week℠, Las Vegas is the setting for what is hands down the most dynamic collection of activities, entertainment, and dining options on the planet. "What to Do in Las Vegas" is AIMExpo's chance to put the spotlight on some of the experiences that cater to the interest of the powersports audience.
While Las Vegas' infamous Strip is loaded with an array of options to satisfy the interest of any visitor, AIMExpo presented by Nationwide's host hotel has something for every attendee. From the finest dining establishments on the planet to unique social experiences, Mandalay Bay has some of the best the city has to offer, without ever having to deal with the hustle and bustle of Las Vegas Boulevard.
Enjoy World Class Food
The range of dining options in Las Vegas is arguably the most dynamic in the world, and the sheer volume of restaurants alone is enough to satisfy any craving. However, AIMExpo presented by Nationwide attendees don't need to look any further than our home base to find a collection of incredible dining experiences.

For more of a casual and social atmosphere, both Libertine Social and RX Boiler Room are stellar options. At Libertine Social, James Beard Award-winning chef Shawn McClain provides a unique dining experience at this next-generation gastropub that features senses-stimulating New American bar food and a pioneering cocktail program. RX Boiler Room is helmed by celebrity chef Rick Moonen (Top Chef Masters) and showcases a spin on classic comfort food that is an ideal shared dining experience. It also boasts a comprehensive drink menu with the finest spirits and innovative libations.
Very few chefs have the kind of global notoriety enjoyed by Wolfgang Puck, and while his many endeavors are well known, Mandalay Bay is home to his first Italian restaurant – Lupo. Leaving lasting memories with diners for nearly 20 years, Lupo specializes in tableside service where guests can watch culinary creations come to life. For two decades it has remained the preeminent Italian restaurant in Las Vegas.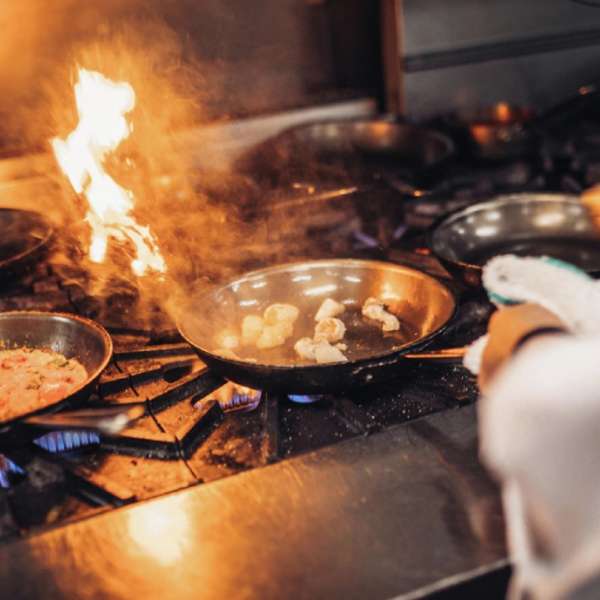 One can never go wrong with something as simple as a nice steak, and STRIPSTEAK by acclaimed chef Michael Mina could very well be Las Vegas' best option. Considered to have the best steak in the United States, STRIPSTEAK provides guests with the perfect filet in a modern alternative to the traditional steakhouse setting. The restaurant features a can't-miss A5 Japanese Wagyu and a selection of 100 single malt scotches.
Be Entertained
At Nashville Unplugged, attendees will get the story behind the song as hosts Aaron Benward, an acclaimed songwriter, and Travis Howard, an actor and songwriter for Miranda Lambert, welcome special guests every Friday night to the Rhythm & Riffs stage located in the heart of Mandalay Bay's casino. This showcase is the longest-running songwriter series outside of Nashville and has become a go-to for country music lovers in search of an intimate, all-acoustic experience.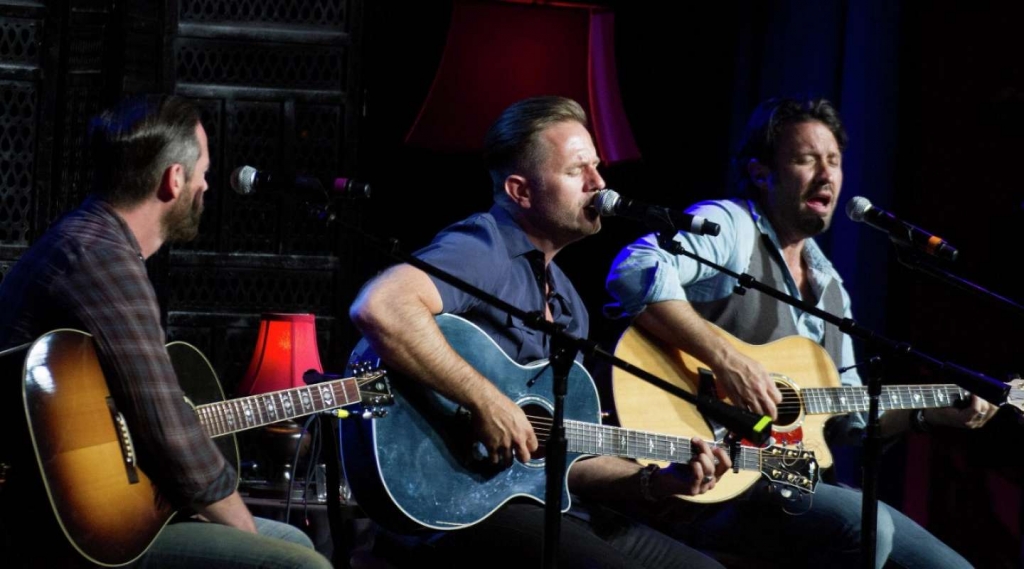 The concept of "chilling out" takes on a whole new meaning at Minus5 Ice Bar, which offers a sub-zero experience inside a winter wonderland filled with over 90 tons of interactive ice sculptures and ice cold cocktails. After the experience, attendees can warm up in the Ice Lounge, filled with TVs, billiards, ping pong, foosball, and more.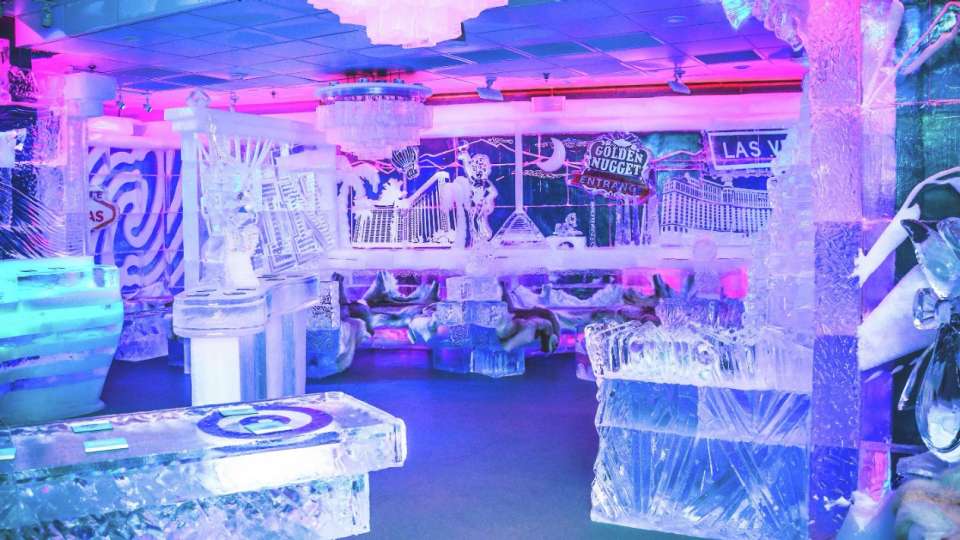 Guests in search of a good old-fashioned pint need to look no further than Ri Ra Irish Pub. A meticulously restored true Irish pub was shipped straight to Vegas and epitomizes the pub experience with its friendly neighborhood atmosphere. While food and drink options are ample, Ri Ra makes an extra effort to provide live entertainment seven nights a week, including several visiting bands direct from Ireland.
Over at the adjacent Delano tower, guests can get a breathtaking, panoramic view of The Strip at Skyfall Lounge. Considered to be a multi-sensory experience with the view, dramatic interior, chill out sounds, and a high-quality selection of creative plates and artisan cocktails, Skyfall offers a unique escape from the noise of the city.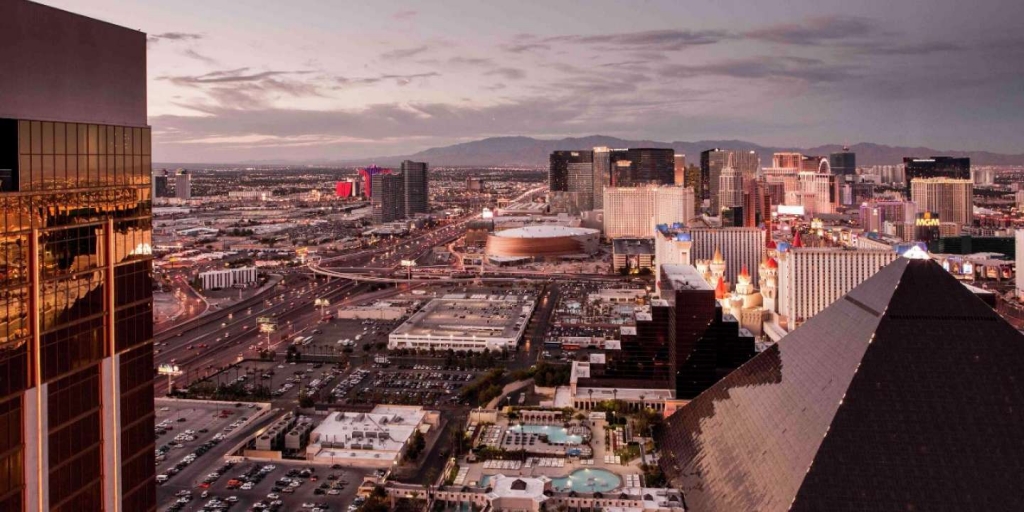 Ample Amenities
It's no secret that it can get hot in the desert, so why not enjoy the world famous Mandalay Bay Beach? Voted by TripAdvisor as one of the best pools in the country, this aquatic playground features 2,700 tons of sand and 1.6 million gallon wave pool. As with any Las Vegas pool, there is an abundance of rentable cabanas, day beds, bungalows, and personalized villas for anyone looking to enhance their experience.

The Shark Reef Aquarium is one of Mandalay Bay's standout attractions and one of the many things that separates the host hotel from the rest of the city. Guests can see more than 2,000 animals, including sharks, giant rays, endangered green sea turtles, piranha, and even a Komodo dragon. Young visitors can take advantage of the opportunity to feed some of these animals at the Animal Encounters program, while those feeling a little more adventurous can dive in alongside one of the highest concentrations of exotic sharks in the world.

Go All In
To celebrate the move to Las Vegas and the first ever Powersports Industry Week℠, we are giving away 5 VIP packages to dealers that register and attend AIMExpo presented by Nationwide 2018.
The package includes:
4 nights FREE accommodation at the Mandalay Bay Hotel during AIMExpo

VIP tickets to

Las Vegas BikeFest

including access to LIVE entertainment featuring Puddle Of Mudd and FOGHAT

Free tickets to

Monster Energy Cup

in special industry seating section
CLICK HERE to enter this exclusive dealer giveaway.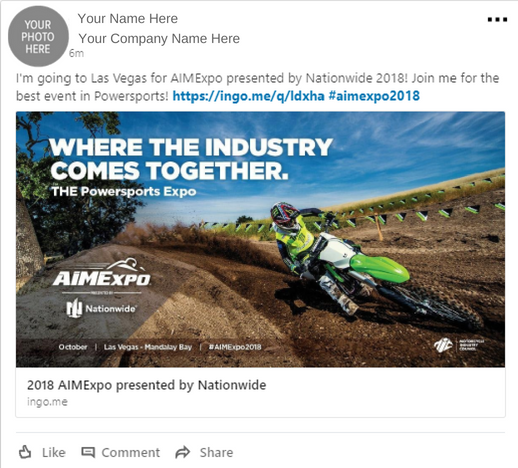 Ready to Book?
To save you time and money, we've contracted hotel rooms at the Mandalay Bay and Delano hotels with lowest rates guaranteed. These two properties, both connected to the convention center, are the only contracted hotels for this year's show.
Mandalay Bay – Rates starting at $160 (rates vary per night)
The Delano – Rates starting at $190 (rates vary per night)
You can make your reservations directly with the Mandalay and Delano by CLICKING HERE or calling 877-632-9001.
Book your room now for The Powersports Show of the year!