Tucker at the Moto Bay Classic: Motorcycles, Music, and Art in the City by the Bay
Roland Sands brings his 'Greatest Show on Dirt' to San Francisco's Pier 32 for a celebration of motorcycles, music, and art.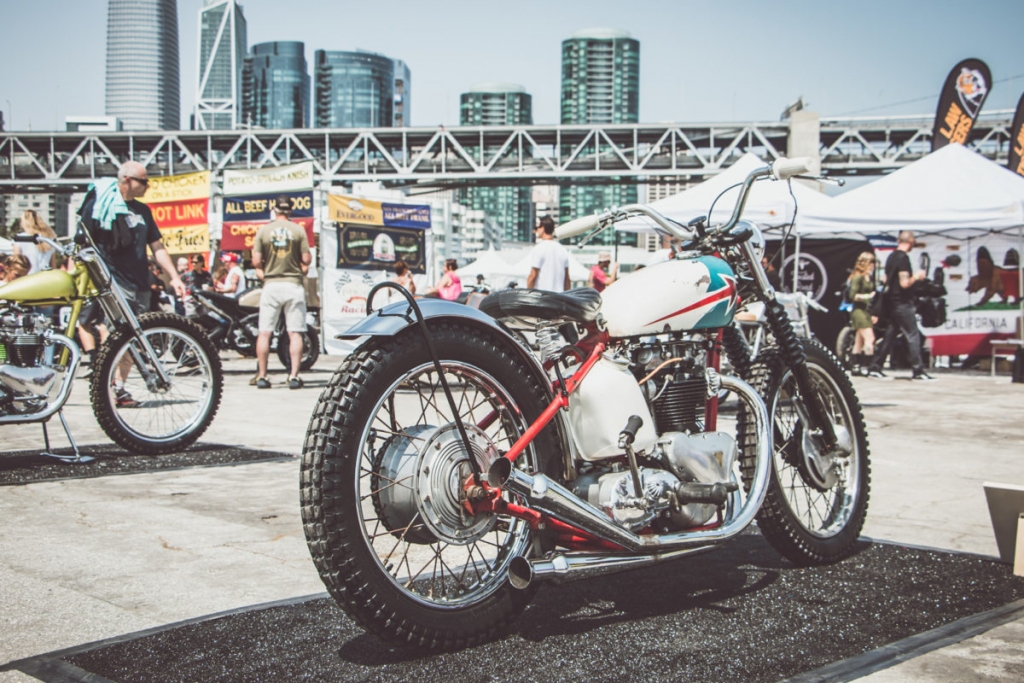 It's no coincidence that motorcycles, music, and art give us a similar type of rush. All three help us to escape the routine of daily life, allow us to feel more alive—and free. That's why when we heard about the inaugural Roland Sands Moto Bay Classic in San Francisco, we knew we had to be involved. Moto Bay was inspired by the 2017 Moto Beach Classic held in Huntington Beach that combined motorcycle flat track and drag racing with a surf competition, art show, and music. The event was an overwhelming success and for 2018 Sands decided to create a second Classic in the motorcycle-friendly city of San Francisco off the Embarcadero at Pier 32. With its urban setting and spectacular views of the Oakland Bay Bridge, San Francisco Bay, and downtown skyline, Pier 32 is a picture-perfect place to hold a motorcycle event. With racing, stunt riding, music, and art on the schedule, Sands created the Moto Bay Classic to have its own unique festival atmosphere with the same focus on fun as Moto Beach.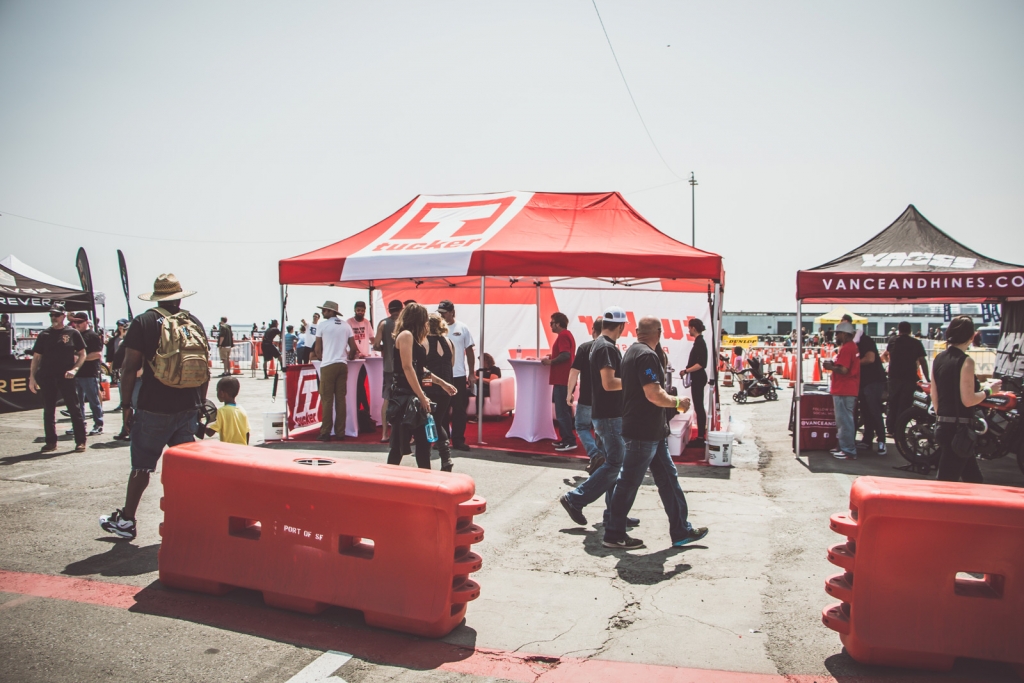 No stranger to motorcycle action, Pier 32 is the same location where the 2000 Summer X Games took place—the first to include Freestyle Moto-X. It was here that a then 15-year old Travis Pastrana recorded the highest score in X Games history with a 99.00 Gold Medal run. Less talked about, is that Pier 32 is also the location of Pastrana's (in)famous jump into San Francisco Bay. Having just won his first X Games Gold, Pastrana donned a life vest under his riding gear and proceeded to launch himself (and his Suzuki RM125 motorcycle) off a four-foot high berm into San Francisco Bay much to the delight of the fans in attendance. Needless to say, the city of San Francisco (and EPA) were not as impressed, and Pastrana's leap into the bay is something that's not talked about much to this day.
As the Tucker crew arrived at Pier 32 on Saturday morning, for final set-up, it was apparent from the laid-back vibe that we were in for an epic day. With our Tucker tents placed in ideal locations near the hooligan track, gymkhana course, concert stage, and art show areas, we were ready to entertain some of our bay area dealers and treat them to a VIP fun-filled Saturday afternoon in the city.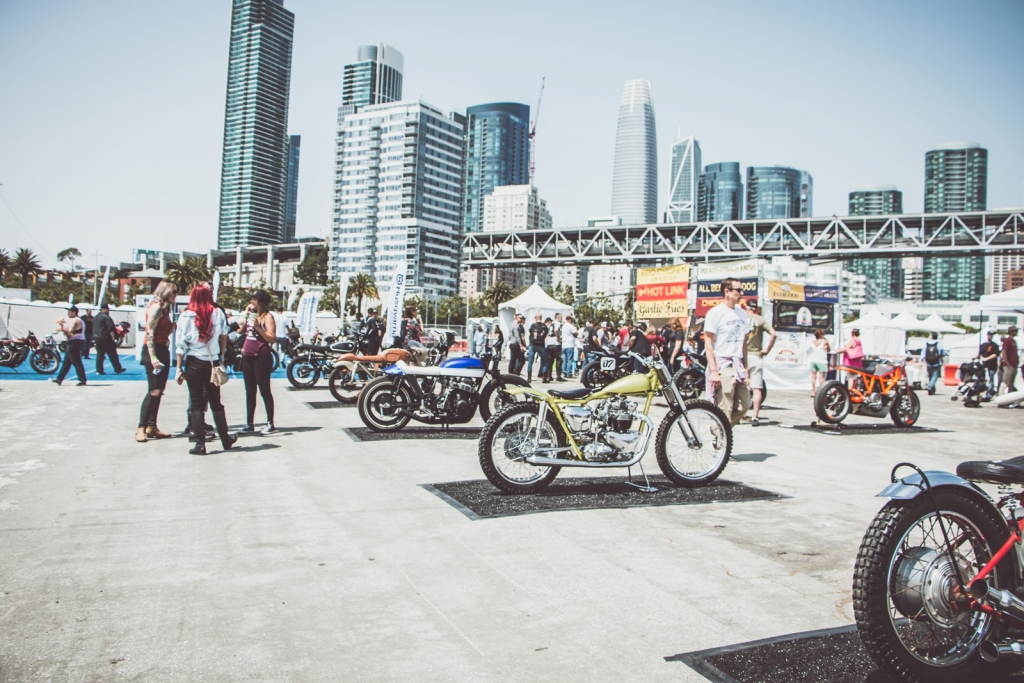 Practice for the hooligan racers kicked off the program at 11:00am. If you've never been to one of these races we suggest you go if one comes to your area. The sound of these bikes alone is something else! Probably like the first time you hear a MotoGP bike or a Formula One car—startlingly impressive. The roar of the twin-cylinder engines combined with the smell of burnt rubber is infectious, and we laughed out loud like little kids as the raw, guttural sound reverberated through our chest like a bass drum.
Although hooligan racing has been around since the 70s, "run what ya' brung" racing has really taken off in the last few of years, and as a result, a national championship series was created. With events scattered throughout the western half of the country, the 2018 Super Hooligan National Championship Series (SHNC) is comprised of nine races. With a limited set of rules, racers must show up on a 750cc or larger street bike, from any manufacturer, and the rules focus on minimal fabrication to keep costs low. For example, a stock production frame must be used, and no geometry changes are allowed unless they are not bolt-on.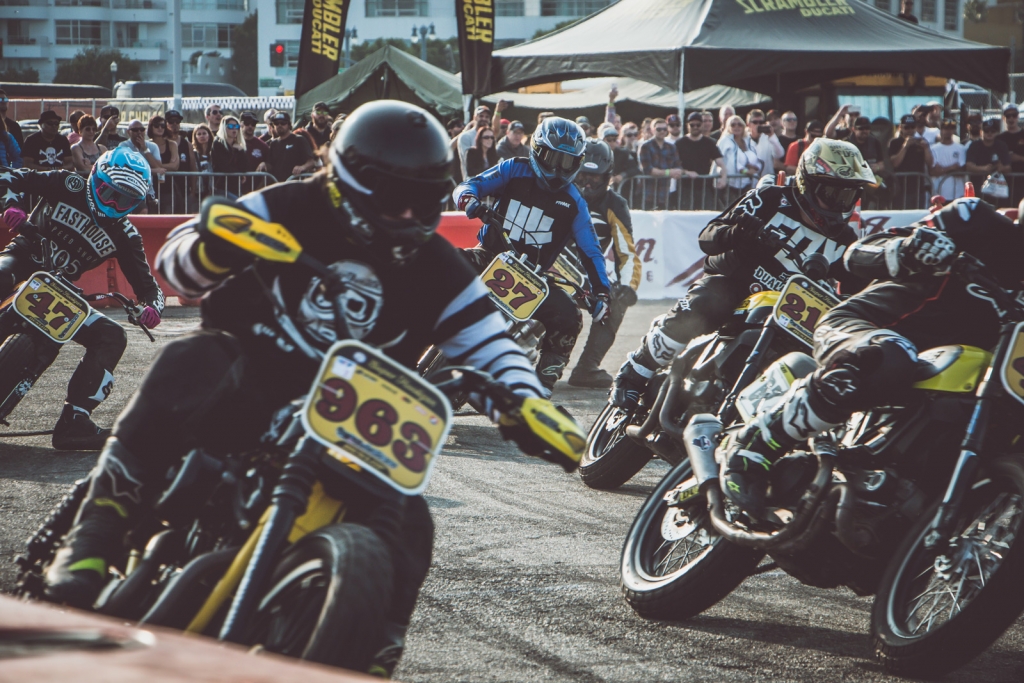 Please head over to the new Tucker.com site to continue reading about all of the action from the Moto Bay Classic. And be sure to check out the massive photo gallery for additional shots from the weekend's festivities!