NORTH AMERICA'S LARGEST POWERSPORTS SHOW BRINGS "SIDEWAYS SATURDAY" INDOOR FLAT TRACK RACING TO COLUMBUS, OHIO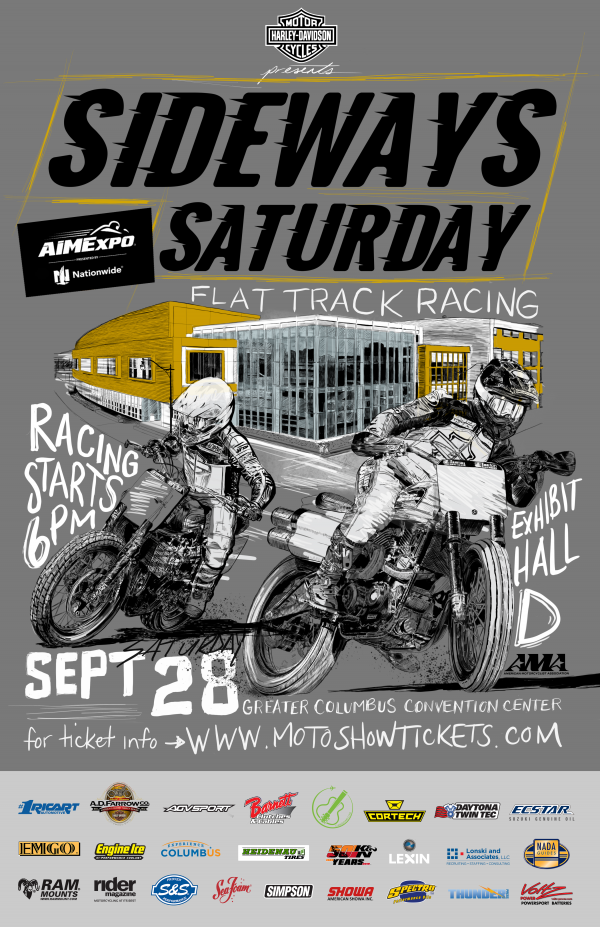 At the core of powersports are events that support, engage and keep the community excited and thriving. Sideways Saturday is a new indoor flat track race that will be held on the show floor of AIMExpo presented by Nationwide.
Bringing the spirit of heritage racing to Columbus on Saturday, September 28th, this AMA-sanctioned Indoor racing event will feature hooligans, e-bikes, wild customs and much more thanks to amateur and pro racers willing to bang bars and put it all on the line for a fun-loving crowd.
Swapping uniformed pit crews and umbrella girls for hardnosed racing on a sticky, soda syrup-drenched concrete floor, Sideways Saturday will bring together powersports industry leaders, influencers, racers, fans and riders from across the country to enjoy one of the most entertaining forms of motorcycle racing.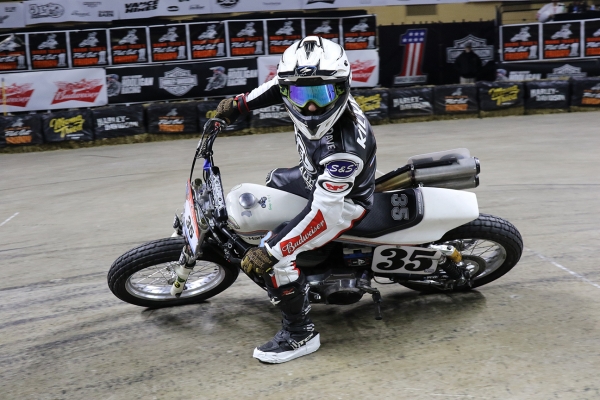 Flat track racing is enjoying a tremendous resurgence and will bring plenty of action from the following classes:
Hooligans
Flat Track Futures (kids 11-14)
Run What Ya Brung
e-bike
Industry Class
"Our host city of Columbus and the infrastructure of the Greater Columbus Convention Center allowed us to create a race on the show floor at the industry's biggest trade show with the assistance of flat track veteran Johnny Lewis," said Andre Albert, Director, Sales and Marketing, MIC Events. "We're excited to be able to bring great racing to our industry event, pulling together all the elements of motorcycling that are important to us, and allowing attendees the opportunity to immerse themselves in everything two wheels. It's going to be a great night and we're excited to be working with Johnny, who is a true industry advocate and ambassador!"
"Sideways Saturday is a great event for Central Ohio," said Rick Ricart, President, AD Farrow Harley Davidson. "The fastest growing sport in the country is coming to Columbus. It's a fun and exciting indoor flat track motorcycle race that brings families together as spectators or participants. We haven't seen excitement like this since… well, we just haven't seen it! Get ready Columbus, you'll be getting sideways and lovin' it!"
"It's a great feeling to be part of the 2019 AIMExpo presented by Nationwide where flat track will be showcased. The flat track vibe is good right now; from American Flat Track to Harley Davidson Hooligan racing in X Games and the international growth of the sport, it's becoming one of the most interesting forms of racing. As a result, it's catching the attention of some of the best off-road and road racers across the world," said Johnny Lewis from Flat Track Futures. "Bringing flat track racing to AIMExpo on a concrete indoor short track at the end of one of the biggest days of the show will just add to the excitement and growth. The industry people and motorcycles enthusiasts on hand will witness some of the top Hooligan racers in the country and the fastest youth talent as they battle it out on a fast-paced, bar-banging short track. It's going to be another part of AIMExpo you will not want to miss!"
Tickets to Sideways Saturday are available through www.motoshowtickets.com including special pricing for industry personnel (promo code required) in a dedicated industry seating area with its own bar and concessions stand. And in addition to the flat track action, there will also be a live DJ to keep the entertainment rocking between races.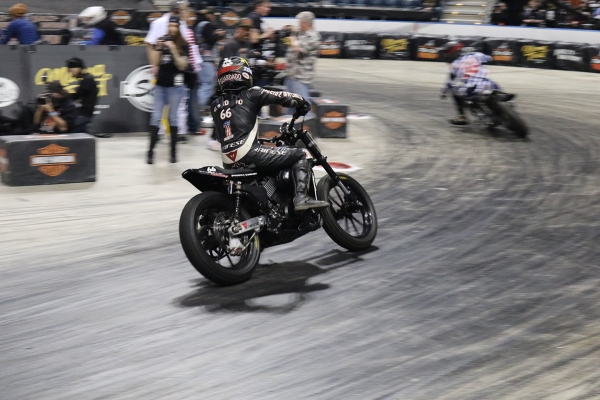 Sideways Saturday is presented by Harley-Davidson and A.D. Farrow Co.
Partnering with the greater AIMExpo community to bring Sideways Saturday to life, this epic indoor race wouldn't be possible without:
AGVSPORT America
Barnett Tool & Engineering
Ciari Guitars
Cortech – Helmet House
Daytona Twin Tec
Ecstar
EMGO
Engine Ice
Experience Columbus
K&N
LEXIN Electronics
Lonski and Associates
MotoAmore
NADA Guides
Ram Mounts
rider Magazine
S&S Cycle
SeaFoam
Simpson
Spectro
Thunder Press
Voltz Power
For AIMExpo Dealer and Media Registration, visit the Registration Portal here
To purchase tickets for the event, click here