EXPLORING "THE SHOP" NEIGHBORHOOD AT THE 2019 AIMEXPO PRESENTED BY NATIONWIDE
AIMExpo presented by Nationwide – the only trade and consumer show for the North American Powersports Industry – has been reimagined and reinvigorated for 2019 as it returns to its home in Columbus, OH on September 26-29. Part of the show's evolution includes more focus on the specific lifestyles that drive the passions of the motorcycle and powersports industry.
New for 2019, the show floor will embrace three of the main lifestyles that influence today's consumer buying decisions. Each "neighborhood" will feature its own "community hangout" focusing on the chosen lifestyle segment. These will include The Alley for Urban and Street culture, as well as The Camp for the two- and four-wheel Adventure and Off-road enthusiasts. Finally, The Shop is dedicated to the V-Twin/Cruiser and Custom community.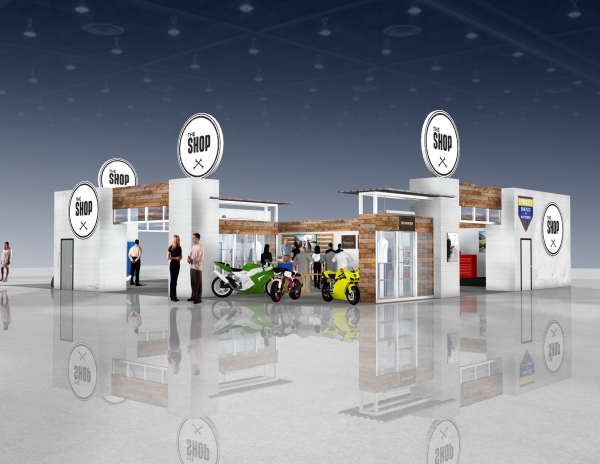 The Shop will feature the following:
Custom motorcycles
Curated by returning ambassador and renowned custom builder Kevin Dunworth of Dunworth Machines, and selected from the entries for The Shop Builders Invitational, these bikes will be among the best Custom machines from across the country. Each entry will showcase the builder's skillset and will be eligible to win the valuable grand prize.
New Product Showcase
Industry Ambassadors will curate a selection of the latest and greatest new parts, gear and accessories to be showcased within each Neighborhood Hangout. If you're a dealer, discover what your customers will be looking for in your shop; if you're a consumer, know what you can't live without!
Shop Talks
Taking place within each neighborhood, these will be intimate conversations with industry experts designed to provoke thought and inspiration. On trade days, topics will focus on buying trends and content designed to help dealers better connect with their customers. On consumer days, the talks will focus on lifestyle trends and what's new for V-Twin/Cruiser and Custom riders. Each Shop Talk will have an opportunity for Q&A with the presenting industry leaders.
Great Music & Specialty Concessions
DJs will create a unique mix of music for each neighborhood, designed to reflect the passion and energy of each. Show attendees can enjoy local IPA and craft beer as well as artisan coffee while immersing themselves in the culture of the lifestyle segment.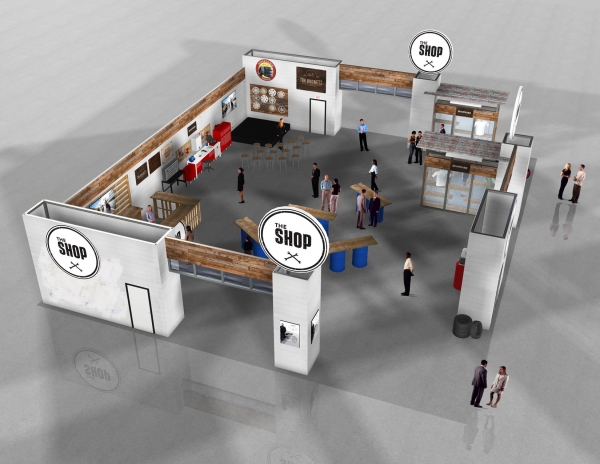 The Shop will provide the perfect meeting place for visitors who want to take a break from the show floor, grab some food and a drink, listen to some inspiring conversation and immerse themselves in the V-Twin/Cruiser and Custom culture.
Exhibitors can take advantage of the themed neighborhoods to present products to their target audience. Companies specializing in the V-Twin/Cruiser and Custom market can focus their activities on their target consumers. Similarly, dealers looking for new products will be able to find suitable suppliers more efficiently. And, of course, the public will know exactly where to look for the motorcycles, parts, gear and accessories they've been searching for.
"We're excited to bring the diverse lifestyles that create motorcycle and powersports culture to the show floor," said Andre Albert, Director, Sales and Marketing, MIC Events. "AIMExpo presented by Nationwide will focus on uniting the industry to ensure that Together We Rise. It is our mission to create a stronger industry that is united in its approach to engage the consumer through product showcases, education, customer service and immersive experiences. We hope the neighborhoods we're creating will allow exhibitors and visitors alike to have a more invigorating experience at the show."
To exhibit at the 2019 AIMExpo presented by Nationwide or register as a dealer, please visit AIMExpoUSA.com
To buy tickets for the show, please visit motoshowtickets.com
Please follow AIMExpo social media on Facebook, Twitter and Instagram
EDITOR'S NOTE
The artwork provided is an artistic impression of The Shop at AIMExpo presented by Nationwide and elements may change.
MEDIA CONTACT
Andre Albert, director, sales and marketing, MIC Events – aalbert@msf-usa.org (949-517- 7512)
Greg Emmerson, ID Agency – greg@theidagency.com