CALIFORNIA HEAT – A SUCCESS STORY FROM AIMEXPO PRESENTED BY NATIONWIDE
AIMExpo presented by Nationwide – the only trade and consumer show for the North American Powersports Industry – takes place in Columbus, OH on September 26-29. Among the hundreds of exhibitors will be California Heat. The family run business develops and manufactures heated clothing for riders and anyone who loves the outdoors but hates the cold. Director of Corporate Relations, Jenn Ambrose, attributes the company's rapid success to their decision to exhibit at the 2018 show.
"We were on the fence due to a limited marketing budget but knew we needed to invest in our first business-to-business show if we wanted to continue growing," Jenn Ambrose explains. "It turned out to be well worth the investment. We were blown away by the amount of traffic to our booth, even though we only had a 10×10' corner space."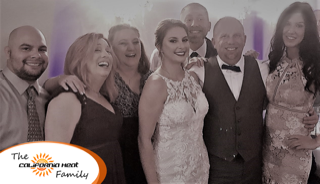 The story begins with Jenn's mother and father, Dawn and John Ambrose. John was a retired Baltimore City police officer and motorcycle enthusiast who was first introduced to Gerbing heated clothing while serving with the department. Her parents decided to start a small retail business in 2012 supporting the brand. "As a reseller of Gerbing, my parents were always attending motorcycle shows, putting them on the front-line and gaining feedback directly from the customers who used or needed heated clothing," Jenn explained.
While attending a tradeshow, John met Ron and Katie Stull. They had previously been John's account managers at Gerbing but had branched off in 2014 to establish California Heat. Their goal was to provide the best technology and craftsmanship, without sacrificing customer service or affordability, standing firmly behind the lifetime warranty on their FinewireTM heating elements and plugs.
What began as an exchange of feedback grew into the development of new California Heat products, including the well-received heated balaclava. It then snowballed into the Ambrose Family taking ownership of the brand, with Ron and Katie providing invaluable knowledge to continue the growth of the company. After thoroughly researching the market and developing product prototypes to solicit feedback at shows, the entire family decided it was time to take the brand to the biggest stage in North American Powersports. "Deciding to exhibit at AIMExpo was a major undertaking for our small business, but it paid for itself in no time," Jenn continued. "We were hoping to really launch our brand awareness, so after careful consideration we decided this could give us the exposure we needed.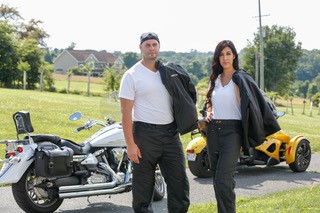 "By the end of first day we couldn't believe how well we were received," Jenn recounts. "We went to AIMExpo not knowing what to expect, but we were slammed. It was an amazing combination of business-to-business opportunities, media exposure and interest from potential distributors that gave us the confidence to take things to the next level."
The family members, including her brother John Jr, were already contributing their marketing, technology, and customer service expertise on a part-time basis. And two weeks after AIMExpo, Jenn left her corporate position to work full-time in the family business. Soon after, others came onboard with dedicated roles.
With multiple deals signed, including Western Powersports, the family saw incredible growth a mere six months after attending the show. "WPS really saw our potential and we shared the same core values of family and a customer-centric approach," Jenn enthused, "so the partnership was a no-brainer."
"We're now at a point where some inquiries are being put on hold in order to control our growth rate," Jenn stated. "We're doing this to stay true to our core values, ensuring we maintain open communication with our consumers, dealers, and partners to continue providing great service, lifetime warranty, and products people actually need. When people hear about California Heat we want them to associate it with the Ambrose and Stull names with confidence.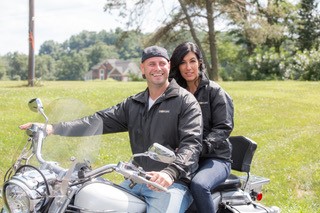 "In May we lost one of our founders and, more importantly, our family – Ron Stull. We're so glad he got to experience the amazing things we have all achieved together since AIMExpo and will sincerely miss his wise words and corny jokes. However, we know he will always be with us and live on through California Heat. Katie still works with us and shares our excitement as we pass each milestone."
The family has upgraded its presence at the 2019 AIMExpo to a peninsula booth on a main aisle with more than double last year's square footage. "The larger space will allow us to showcase current products and unveil new ones to potential partners, current partners, the media and consumers," Jenn explained. "And thanks to the feedback from outdoor, sports, and snow enthusiasts, we're in the process of expanding the 7V battery line.
"Please stop by Booth 1117 at AIMExpo in September if you want to be the first to get a  sneak peek. We are easy to find, just look for all the crazy bright orange!" Jenn jokes.
What words of advice does Jenn have for other companies thinking about exhibiting at AIMExpo presented by Nationwide? "Business is about relationships, putting the consumers first, and taking calculated risks. Making our B2B debut at AIMExpo 2018 was a calculated risk, but it was also the turning point for our family business and we look forward to seeing old friends and new faces in September!"