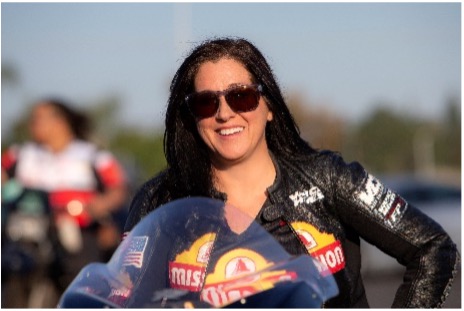 IRVINE, Calif., January 25, 2023 – She's 5'1", 115 pounds and manages a 500-pound, 400-horsepower motorcycle at 200 miles per hour. Angelle Sampey, the winningest female racer in NHRA history, will join Kerry Graeber of Suzuki Motor USA to talk about grit, tenacity, and how to use the unexpected to break down barriers and achieve success in life and business. She'll be on the main stage Wednesday, February 15, as AIMExpo's keynote speaker.
"My life, my career has always been about never giving up and never giving in," said Sampey, the latest addition to AIMExpo's educational lineup. "Being a woman drag-racing motorcycles has taught me that there are no barriers you can't overcome and that you have the power to change people's minds. I hope that by sharing my story, I can help the powersports community realize just how much influence they have, especially as we work to bring more people into our awesome community."
"Angelle is a legend, with unparalleled success in the highly charged world of professional drag racing," said Graeber, senior vice president, division manager of sales and marketing at Suzuki Motor USA, LLC. "While our industry works hard to reach beyond our traditional customers, I'm eager to hear insights Angelle may have to help us inspire more people to ride. Angelle doesn't fit the traditional expectations many have about motorcyclists in general and her story will force us to rethink long-held, and outdated, perceptions about who our customers are."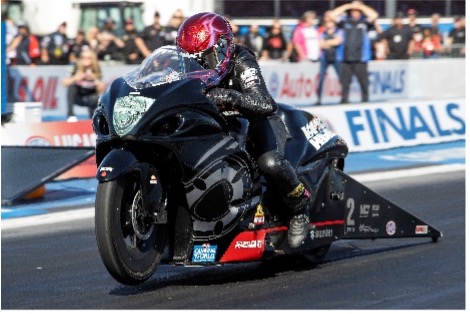 Sampey began her professional racing career in 1996, and after just four entries, she won her first race in Reading, Pennsylvania. Not only did she win, she was also the number one qualifier and reset the National E.T. record. By 2001, Sampey became the winningest female racer and continues to hold that title with 46 wins and three NHRA Pro Stock Motorcycle world championships. But after the 2008 season, at age 38, she retired from drag racing to pursue another goal — starting a family. Little did she know, her racing career was far from over.
"It was scary to leave racing behind. It's what I knew, what I loved," Sampey said. "What I never imagined was how, by doing something different, I was able to achieve all my dreams and find even more success."
In 2014, Sampey received a call from a former team asking her to fill in after their rider had left. "I wasn't sure about it at first," Sampey said. "I was a mother now and didn't know if I still had the competitive fire in me. Boy was I wrong! But I have to thank the team for their open hearts and open minds, and their belief that a 40-something-year-old mother could be a fierce racer."
"They showed me again that we always have to look beyond the surface," she said. "We know that the powersports community is embracing and generous, but to many outside, we probably seem a bit intimidating. I want to explore how we can make our industry more approachable, and how all of you out there, especially at the dealerships, are the true ambassadors, you are the faces of powersports and you have the power to grow our community."
For a complete list of AIMExpo's 2023 educational offerings and/or to register, go to www.AIMExpoUSA.com.
ABOUT ANGELLE SAMPEY
Angelle Sampey is the winningest female racer in the history of the National Hot Rod Association (NHRA). Angelle was born in New Orleans, Louisiana, and found out at an early age that her passion for racing was quite fierce. By the time the diminutive beauty was six, she was already winning on her dirt bike, making her decision to be in beauty pageants or races quite difficult. After attending Frank Hawley's Drag Racing School, Angelle began her professional career in 1996. Angelle holds 46 career wins and 59 number 1 qualifiers, giving her the title of winningest female driver in NHRA history.