Brainerd, MN, January 9, 2019 – Wild Ass, a market leading manufacturer of Air Cushion technology, today announced an exciting new partnership with the highly regarded and renowned US distributor Lemans Corp and their Parts Unlimited and Drag Specialties subsidiaries.
"The Parts unlimited/Drag Specialties network will provide us with the market penetration needed to reach our full sales potential. Wild Ass has considered many distribution partners and we are confident that Lemans' distribution network and market presence will help us leverage our position in the Powersports Industry." Said Craig Johnson, Co-Founder of Wild Ass.
Scott Parman, co-founder of Wild Ass added "Partnering with Parts Unlimited and Drag Specialties is a big step up for Wild Ass as a relatively new brand to the industry. From past experience with Parts Unlimited & Drag Specialties they know what the industry is looking for with state of the art products such as Wild Ass and we are pleased to provide the best seat cushion options available to their wide dealer network throughout the US."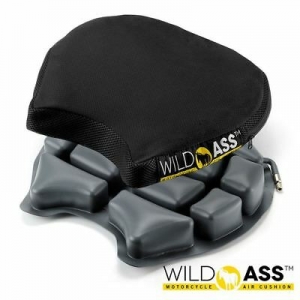 About Wild Ass
The Wild Ass Motorcycle Air Seat Cushion eliminates pressure points and promotes circulation by utilizing adjustable interconnected air cells, which conform to the rider's shape, regardless of weight or seating position. Additional benefits are reduction of shock and vibration to reduce lower back pain, and air circulation under the rider to disperse heat and perspiration. Wild Ass is recommended for motorcycle riders who would like reduction of painful pressure points, increased circulation, reduced vibration, shock absorption, heat, and moisture reduction in the seating area and greater overall seat comfort while riding a motorcycle.
About Lemans
Parts Unlimited is the world's largest distributor of aftermarket accessories in the powersports industry and is owned by Lemans Corporation headquartered in Janesville, Wisconsin. Parts Unlimited sells to over 12,000 dealerships worldwide and continues to expand its market penetration with its sister companies, Parts Canada, Parts Europe, and Drag Specialties.