Today, Wednesday at AIMExpo
Key Dates and Times
Tomorrow, Thursday at AIMExpo
New Product Central Thursday Schedule
Selected New Product Brands
Don't Miss Show Features
Exhibitor Portal Log-In
Floor Plan and Exhibitor List
The MIC Business Center
MIC Member Benefits
Wednesday saw the start of three days of highly valuable on-stage and in-classroom presentations and education sessions. Four insightful and inspirational presentations were on the Disruptive Thinking stage, including the keynote speech from Angelle Sampey, NHRA Pro Stock Motorcycle legend.
---
The State of the IndustryWhat Powersports Leaders Say About Today and the Future
The MIC Board of Directors and MIC President and CEO Erik Pritchard stepped up on the main stage for the first of AIMExpo's Disruptive Thinking: MIC Symposium sessions, providing their insights on the state of the industry, the year ahead, market expansion, and how powersports businesses can unite for future growth.
"I think for me the message is that we have to really embrace what we did prior to 2020, and that's making sure the customer is special," said Bill Jenkins, senior vice president sales and operations of Kawasaki Motors Corp., U.S.A. "We know, and you know, that during COVID, supply was very limited and you could say 'take it or leave it.' Those times are changing quickly. We are back into pre-COVID times right now. So, you need to prepare yourself and your staff to readjust to that climate."
"Most of us have changed to some degree as consumers," said Derek Brooks, motorcycle product line manager of Yamaha Motor Corporation, U.S.A. "How we consume entertainment, how we consume information, how we recreate. If we're not considering how they are engaging in something entertaining, I think we're missing the point. I think we really have to understand…the ease that there is to get entertainment. Everything seems to be much more easily obtainable. We have to have that mindset. It's up to us to provide that ease of access to not just returning riders but especially these newer riders, make it as easy as possible for them to adopt powersports, motorsports, into their lifestyle."
More from the MIC Board – Scroll down on the next page
---
Market Monitor ToolkitFiguring Out How to Decipher the Data
David Savlowitz and Michael Ponton of Competitive Analytics were second up on the big stage on Wednesday, to talk about the importance of having a well-stocked data toolkit for market monitoring.
"This session empowered attendees with powerful data visualization tools to decipher what is really going on inside a very complex economy and enigmatic motorcycle industry, as well as gain valuable insight into when conditions could improve or downshift," said Savlowitz, the firm's CEO and founder. "We wanted the audience to leave this session understanding how to interpret key economic and industry indicators and which strategies should be driven by predictive analytics."
Savlowitz emphasized that a market monitor toolkit is not about static charts, abstract trends, and trivial facts that can easily and soon be forgotten. It's about usable and actionable market intelligence that drives strategic and tactical data-driven decision making.
There are a nearly infinite number of tools when applying data science, market research, and advanced analytics, but Savlowitz said that the seven tools of the Market Monitor Toolkit he presented today covered the important dimensions that every company should perpetually observe.
---
The Real HeroesAnother Way of Looking at Your Customers
Who should be the hero at a dealership? Putting the customer at the center of a dealership's story is the one of the best things a retailer can do, according to Jared Burt of Herohub, Ian Riley of Fredericktown Yamaha, and Brett Smith of motorcycle media brand "We Went Fast."
"Embrace your customers," Riley said, suggesting dealers help connect them with other riders. "Take the time. Listen to them. Interact with them. Try to find a way to get them to the right places."
Smith asked the audience members if they followed their customers on social media.
"I see you," he said. "You see me. You gotta earn that trust."
The trio also had a pair of refurbished, older off-road machines on stage, and talked about how so many people they met wanted to talk about their project bikes. They're a way to start relationships and make connections.
Social media and technology are important for dealerships today, Burt said, with one caveat.
"It doesn't matter unless it creates human connections," he said.
---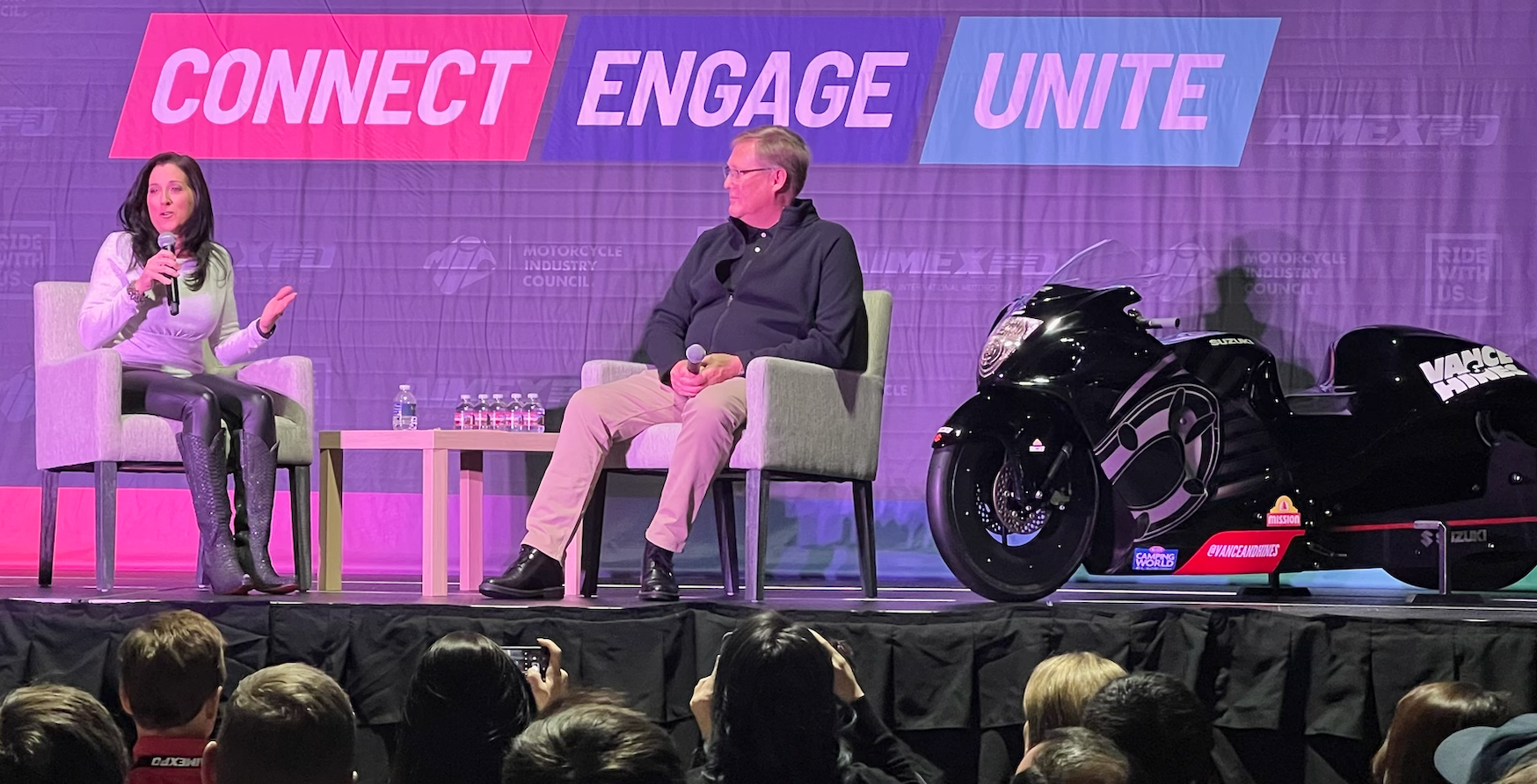 Breaking Records and StereotypesKeynote Speaker Angelle Sampey, Three-Time NHRA Champion
AIMExpo keynote speaker Angelle Sampey, three-time Pro Stock Motorcycle Champion and the winningest female in NHRA history, spoke about her passion for motorcycling, for racing, battling stereotypes, and serving as an inspiration to many.
"I was struck by the whole stigma of who it is who rides motorcycles since I was six years old," she said. "That's been very tough, my whole career, to get people to believe in me, whether it's sponsors or team owners or crew chiefs or fans. When I started, there were no females out there. And now, at some races, we have almost as many females as men. So it's changing, but it needs to change even more."
Sampey spoke on the main stage with Kerry Graeber, senior vice president, division manager, sales & marketing at Suzuki Motor USA, LLC. Also on stage was a Hayabusa drag bike, the likes of which have 400 horsepower.
"I do 100 miles per hour in less than two seconds," Sampey said. "It's three and a half gs. Almost 203 miles per hour is my best. It's definitely one of the most exciting things I've ever done. It's something I wish everybody could feel. I'm the lucky one that gets to do it."
The industry assembled at AIMExpo came to a full stop late Wednesday afternoon, pausing to remember a powersports giant: Fred Fox. On the main stage, as attendees gathered for the opening session, Don Emde led a toast to Fox, the founder of Parts Unlimited and a legendary business leader.
For a remembrance of Fred Fox, written by Don Emde, please visit today's MIC RideReport.
Live and in-person, several powersports companies, famed motorcycle brands, and two e-bike makers on the move presented their latest offerings on Wednesday as AIMExpo's New Product Central stage made its debut on the convention center floor.



KTM, GASGAS, Husqvarna, and MV Agusta went first, at their own AIMExpo booths, highlighting several of their new models for 2023. For the inaugural presentations on the New Product Central stage – near the South Hall upper level main entrance – EyeLights delivered a show-and-tell about its new in-helmet head-up display, and Moto Morini introduced its new motorcycle lineup and plans for the U.S. market.
Suzuki also rolled out its brand-new GSX-8S and V-STROM 800DE line. SSR Motorsports and QJmotor showcased a range of models. Greenger, QuietKat, and UBCO put the spotlight on their new electric two-wheelers on AIMExpo's opening day. Answer, Atturo, DragonFire, ProTaper, Twin Power, and ZiiDMS further added to Wednesday's packed schedule, giving dealers and other audience members a good taste of what's new on the market or soon to be available.
For all three days at AIMExpo, New Product Central will feature a series of brands showing and talking about their latest products with special host Kevin Dunworth, award-winning bike builder and innovation leader. The presentations are open to all AIMExpo attendees.
The AIMExpo Show Daily will feature more detailed coverage of New Product Central presentations.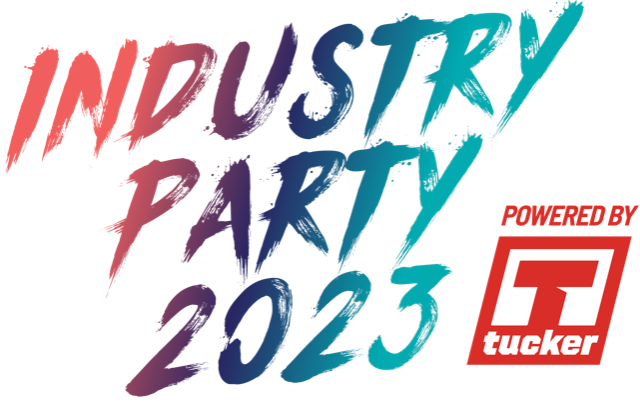 After all the day's business, education, and valuable networking, AIMExpo attendees enjoyed an evening of socializing and celebration right on the show floor, powered by Tucker.
Click Here for Daily Details on the Week's Schedule
Thursday Show Hours: 9 am to 5 pm
8:15 to 9 am – MIC Welcome Breakfast
MIC Business Center, booth 100
11 am – Distributor Panel with Parts Unlimited / Drag Specialties,
Tucker Powersports, and Western Powersports
Disruptive Thinking Main Stage
Noon – Media Lunch with the Pediatric Brain Tumor Foundation
and Ride for Kids
New Product Central Stage
5 pm to 7 pm – AIMExpo Dealer Salute presented by Dealernews
Disruptive Thinking Main Stage
–
Friday Show Hours: 9 am to 2 pm
---
Tomorrow, Thursday, will continue with more highly valuable on-stage and in-classroom presentations and education sessions. Disruptive Thinking: MIC Symposium talks will be on the big stage on the show floor. Dealer Excellence classroom sessions will dive into the latest on ever-changing, best-business practices for powersports retailers. And there's much more.
All AIMExpo attendees are invited to join the MIC and its data partners for breakfast and industry networking. Thursday 8:15 to 9 am by the MIC Business Center on the AIMExpo show floor, booth 100. Sponsored by Competitive Analytics, Consumer Research Solutions, S&P Global Mobility, and Statistical Surveys.
The NPDA Annual Update Meeting will take place next to the AIMExpo show floor Thursday morning, 9 am in the South Building, room 231. All dealers are invited and welcome to attend. The NPDA will be gathering board members, association advisors, corporate partners, and both member and non-member dealers. Tucker Powersports announced a sweeping dealer support program that will pay the dealers' NPDA dues. Tucker will pay 100 percent of the annual membership fee for dealers who meet a certain annual purchase level. Tucker will also cover 50 percent of membership fees for dealers at a reduced purchase level.
The there will be a noontime media lunch with the Pediatric Brain Tumor Foundation and Ride for Kids at the New Product Central stage, booth 1000. All AIMExpo attendees are invited to hear about plans for 2023.
Dealernews is bringing back its famed Top 100 Dealer Awards – the powersports industry's largest, longest running, and most prestigious retail competition – Thursday from 5 to 7 pm on the show floor by the main stage. All AIMExpo attendees are invited to the AIMExpo Dealer Salute presented by Dealernews, honoring the Top 25 Dealers of All Time. Free tacos and margaritas will be served.
Tomorrow's speakers include Rick Alcon of team R&S Powersports Group, Bob Althoff of Farrow Harley-Davidson, Sam Dantzler of Garage Composites, Brent Gyuricza of Maverick Motorsports, Kim Harrison of Coleman PowerSports, Lauren Hensley of Indian Motorcycle Sturgis, Paul Langley of Parts Unlimited and Drag Specialties, Marc McAllister of Tucker Powersports, Ian Riley of Fredericktown Yamaha, and Jeff Schoetz of Karl Malone Powersports.

Presenting Thursday 9:30 am at New Product Central
California Heat Clothing 
California Heat has three heated clothing products being released through the end of February, all powered using a 7V rechargeable battery. There's the Heated Half Pint, a lightweight dickie with heating panels in the chest, back, and full-coverage neck, plus a mid-layer meant to be worn between a shirt and outer jacket – all designed so that one size fits most riders. And there's a new Heated Jacket with heating panels in the chest, back, and neck, that's lightweight and made of waterproof and windproof four-way stretch softshell. It also features a drop-tail back, reflective accent across the rear, an adjustable and removable hood, fleece-lined hood and pockets, and sizes available from XS to 4XL.
Visit California Heat at booth 4038.
Presenting Thursday 9:45 at New Product Central
Rabaconda Tire Changers and Tools
Rabaconda will be showing its new Street Bike Tire Changer that can be operated in a comfortable standing position, does not need to be fixed to ground, uses a plastic duck head for scratch-less mounting, and can fit into a small carry bag. It's an ideal tool for smaller work spaces, trackside service, being used at events, or for changing tires away from the shop.
Visit Rabaconda at booth 6085.

Presenting Thursday 10 am at New Product Central
700Credit DL Scanner
With compliance and ID verification becoming more difficult for dealers to manage, 700Credit is continually working to improve the sales process for dealers and consumers. Part of 700Credit's effort to improve the dealer and customer experience is our new Driver's License Scanner, which offers unique benefits. It's the only physical DL scanner that backs its performance 100 percent. If a vehicle is stolen, then 700Credit pays for it, not the dealer. The Physical DL Scanner is 100 percent replaceable if damaged at no cost to the dealer. Works in all 50 states for DLs or government IDs. Mexican and Canadian IDs/DLs also work.
Visit 700Credit at booth 7039.
Presenting Thursday 10:45 am at New Product Central
CounterShox 
CounterShox will present its bolt-on device designed to provide a tuned counter-reaction to obstacles in racing and extreme riding environments. Impulses to the fork are used to provide an automatic reactionary force that the rider no longer has to provide through the handlebars. This product virtually eliminates forearm pump.
Visit CounterShox at booth 6048.
Presenting Thursday 2 pm at New Product Central
Ride Vision Collision Avoidance System
Ride Vision will present its collision avoidance system designed for two- and three-wheeled vehicles. With AI analytics and capturing 360-degree video footage, Ride Vision alerts riders to potential dangers in real time. A comprehensive series of unobtrusive alerts are delivered by way of LEDs mounted on the mirrors, designed to alert riders to dangers without distracting their attention from the road.
Visit Ride Vision at booth 3039.
Presenting Thursday at 2:45 at New Product Central
KYT Helmets
KYT Helmets will be releasing its new premium helmet model at AIMExpo, the new model used in MotoGP racing by KYT riders. And KYT has invited its director of R&D from Italy to give a presentation at New Product Central
Visit KYT at booth 3074.
Exclusive AIMExpo Benefit for MIC Members Only
MIC members are invited to enjoy exclusive, complimentary benefits inside the MIC Business Center. Wednesday through Friday it will be open for all MIC members. And that includes breakfast and lunch.
Amenities in the members-only MIC Business Center include: workstations with charging capabilities, a lounge area for breaks, laptop and printer access, private meeting rooms for up to eight people, and secure luggage storage.
There are also complimentary beverages and coffee Tuesday afternoon through Friday, complimentary lunch Wednesday through Friday, plus MIC and AIMExpo staff on-hand to answer questions.
Please note that lunch and meeting rooms are on a first-come, first-serve basis and there is a two-hour max each day, per company, for the rooms.
The MIC Business Center is on the South Hall Upper Level at the Las Vegas Convention center, booth 100.
MIC Business Center Hours
Thursday: 8 am to 5 pm
Friday: 8 am to 2 pm
AIMExpo Exhibitor Credit and Much More
The MIC has a lot to offer members – far-ranging benefits, not only for companies, but for powersports as a whole. With legislative matters, with public land issues, businesses do much better standing together as one powerful industry force.
We support MIC members through regular communication about our tangible membership benefits: advocacy, industry research, market expansion through Ride With Us, as well as our monthly symposiums that provide professional development opportunities and keen insights on industry trends.
Plus, MIC members earn a $200 credit per 10′ x 10′ of AIMExpo floor space, with a maximum up to 50 percent of total annual MIC dues.
AIMExpo attendees who are not yet MIC members are invited to contact and meet with MIC staff inside the Business Center, Tuesday through Friday. A wide variety of powersports businesses can join and benefit from MIC membership. And any powersports dealer can join the MIC for only $495 a year. Learn more at the MIC Business Center on the South Hall Upper Level at the Las Vegas Convention center, booth 100.