Today, Thursday at AIMExpo
Key Dates and Times
Tomorrow, Friday at AIMExpo
New Product Central Friday Schedule
Selected New Product Brands
Don't Miss Show Features
Exhibitor Portal Log-In
Floor Plan and Exhibitor List
The MIC Business Center
MIC Member Benefits
Thursday featured more high-value presentations and education. The day had four insightful and inspirational Disruptive Thinking presentations, four Dealer Excellence sessions presented by McGraw Powersports, the AIMExpo Dealer Salute presented by Dealernews, and Taco Thursday with McGraw Margaritas.
---

On-stage: Sam Dantzler, Paul Langley, Chera Gibb, and Marc McAllister
The Future of PowersportsFrom the Distributors' Perspective
"I think there's plenty of opportunity to go out and sell, and service our customers," said Paul Langley, chairman of the LeMans Corporation, parent company of Parts Unlimited and Drag Specialties. "It's not going to be as easy as through COVID, when they just called up and said 'send it.' We're going to have to work for it."
Langley was joined on stage with two other heavy hitters of powersports distribution, in a panel session moderated by Sam Dantzler, president of Garage Composites.
"This is when you try the stuff that you've never tried before," said Chera Gibb, senior vice president, marketing & communications, North America, Arrowhead Engineered Products. "This is really a chance to partner with your favorite sales person and look at what can we do different to get our fair share of that consumer's dollar."
Looking back at the 2008-2010 recession, used powersports vehicles and accessorizing kept a lot of dealers in business, said Marc McAllister, president and CEO of Tucker Powersports.
"I think this is a good year to make sure that you're focused on what everything from the parts counter (to the back of the dealer) is doing for you," he said. "Your best customers may be coming in the service entrance, not through the front of the dealer. Make sure you're maximizing those interactions. The parts counter and service writers need to be incentivized to drive that sale, because they are the people who really monetize that interaction with the customer, as well as satisfy those needs and wants."
Dantzler said that it's important to revisit potential customers who wanted to buy during the height of the pandemic, but couldn't because of short supply.
"Fifty to sixty percent of the people who were interested in a powersport product are still out there," he said. "It just takes somebody, leveraging the CRM, to call those people and bring them back in the store."
More from the Distributors – Scroll down on the next page
---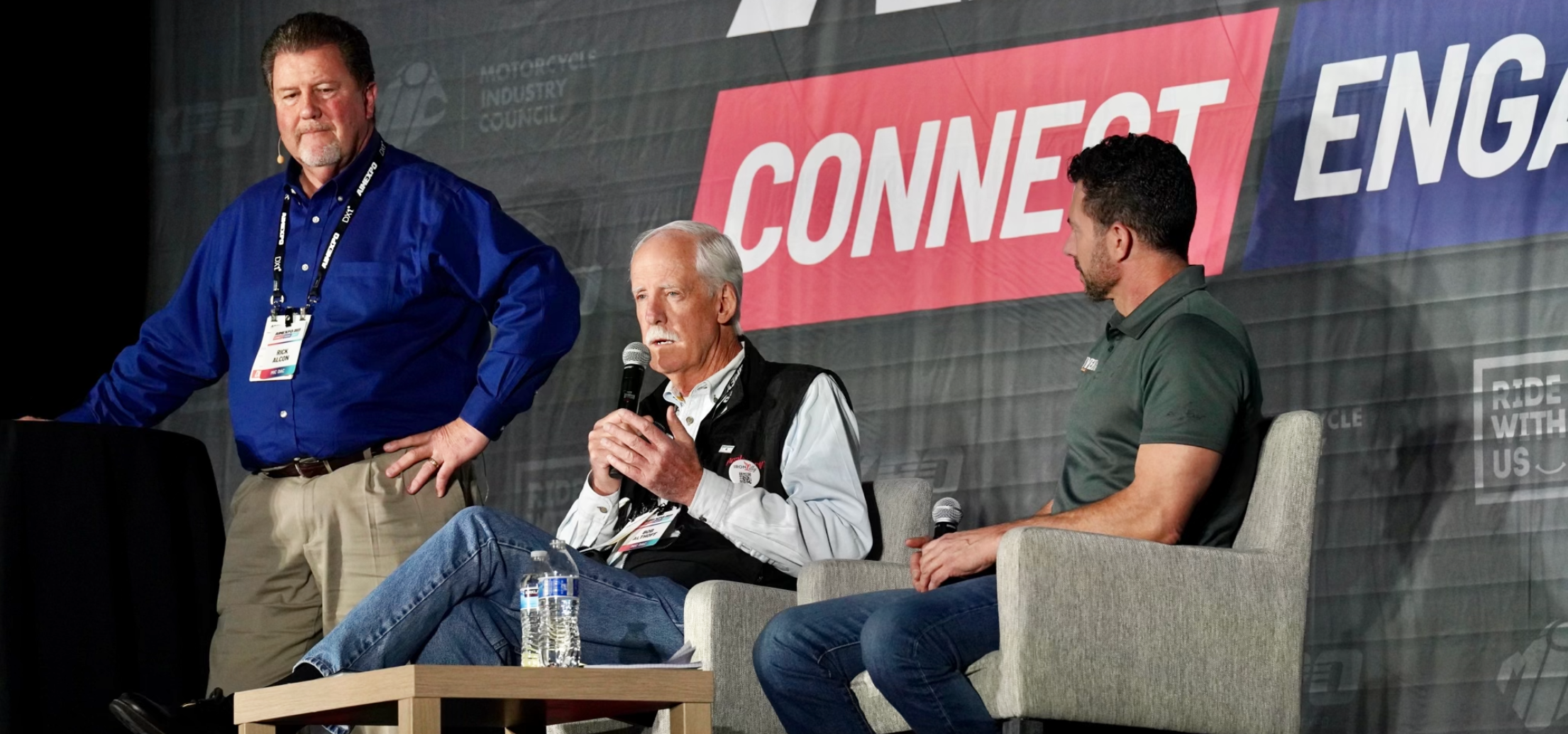 Rick Alcon, Bob Althoff, and Brent Gyuricza
Dealer Advisory Council PanelChallenges Facing Our Industry Today
Rick Alcon of Team R&S Powersports Group said that through the pandemic, even bad dealers were able to be successful. Times are changing and he tells dealerships to expect to work hard for future success. That starts with gathering valuable information available to them, rely on it for making business decisions, and have a solid process in place.
"Feelings are not fact," Alcon said. "Do everything you can to be data-driven, do everything you can to get the best information you can, employ your tools, and execute your tools to the best of your ability. (For customers), you need a relationship-based sales process that makes it easy for them to buy. If you have that, and you're committed to it, and you can understand it, and you can articulate it, and you can train to it, and your staff buys into it, it will minimize the downtimes and it will maximize the uptimes."
Alcon moderated a panel featuring Bob Althoff of Farrow Harley-Davidson and Brent Gyuricza of Maverick Motorsports. They covered a variety of challenges for dealerships, from staffing to successful community building and active involvement.
"If we want to continue to grow our businesses, as well as the industry, it takes active involvement," Gyuricza said. "It takes actually looking at your business as a business. It takes coming to events like this, meeting with the vendors, meeting with the OEMs, participating in 20 clubs. The days of COVID…those are gone, but the opportunity to grow for a dealer always remains when you're active in your business."
Althoff reminded the audience to also focus on customers.
"If we keep our focus on the customers, and I know we will, we're going to be just fine," he said. "The greatest advertising for our industry is if all those folks, that bought that product, if they just happened to leave their garage doors open a little more often. And everybody on the block looks in there and sees that beautiful bike, or that great side-by-side so the family can go out and enjoy the desert this weekend. And first thing you know, everybody on the block wants one. Future's bright and I'm quite confident that we're going to do a great job. It's what we've done for a hundred years. We don't sell units. We build community. They're going to be well-served."
---
Delivering Exceptional ExperiencesDo You Have The Right Team to Face What's Coming in 2023?
Jared Burt of Herohub led a panel of dealer staffers and shared best practices for building a dealership team that delivers exceptional customer experiences.
"As far as employees go, for retention, make it fun," said Ian Riley of Fredericktown Yamaha. "It's a fun industry. We've become a moto family…that works together, and I think that leads to a big part of success."
Day Owen of Yamaha of Las Vegas thinks dealerships need to be open to female employees.
"I would say give that woman a chance," she said. "Let her prove her worth. I know it's a male-dominated industry but definitely give us a chance."
Owen also stressed keeping in contact with customers, which brings them back to the dealership. And that contact can be maintained in different ways.
"We started with text-messaging apps," she said. "That's how we communicate a lot with our customers. We noticed a lot of our customers don't want to be on the phone or can't be on the phone, so it's super easy to send a text (to schedule service and more)."
Return customers offer opportunities to get them interested in accessories, she said, while they're in for service. Her dealership keeps accessorized machines on display to serve as inspiration for bike builds.
"Best practices and things you have shared with us today…you can't help but have a little army of people that will help make sure customers never miss a ride," Burt said.
---
Taking Your Business From Where It IsTo Where You Want It To Be
Dealership process matters to Tommy Ady, sales and marketing expert and creator of The Perfect Way To Sell online training platform. Process matters, he said, for more complex things, like attracting potential employees with a clear career path, and for simple but important tasks like how dealerships answer the phone when customers call in.
"Oftentimes, there are very simple things not currently being done that can bring windfalls of revenue, revenue levels that the majority of dealerships reach and never move past," Ady said. He shared "commonly used strategies that only the most dominant dealerships ever use to move past one break-point level and on to the next."
---


Live and in-person, several powersports companies, famed motorcycle brands, and two e-bike makers on the move presented their latest offerings on Wednesday as AIMExpo's New Product Central stage made its debut on the convention center floor. For all three days at AIMExpo, New Product Central is featuring a series of brand representatives showing and talking about their company's latest products with special host Kevin Dunworth, award-winning bike builder and innovation leader. The presentations are open to all AIMExpo attendees.
Veteran motojournalist Jean Turner took a look at what was showcased and on the show floor this week:
KTM Group – Wednesday morning at AIMExpo kicked off with a family affair, with a new product range presentation from the KTM, Husqvarna, GASGAS, and MV Agusta brands. The ever-growing Pierer Mobility Group is all about forward momentum with expanding product lines from street to dirt, from pedals to footpegs, and from e-power to internal combustion. The common vein weaving through all brands is the shared "Ready to Race" DNA.
Newest to the motorcycle group is MV Agusta, the Italian brand making news with its proud reveal of the Superveloce 1000. Featuring the same motor as the Brutale, the all-new 1000 embodies the brand's mantra of "motorcycles as art." Italian-red carbon-fiber bodywork against gold accents and featuring a host of high-end components, this limited-edition model will be available in North America in early 2024.
Along with motorcycle artwork and Italian styling, MV Agusta also emphasized the importance of a premium purchasing experience. The firm plans to grow and offer membership and tailoring programs to the discerning MV customer.
New Central Products On-Stage – Scroll down on the next page
---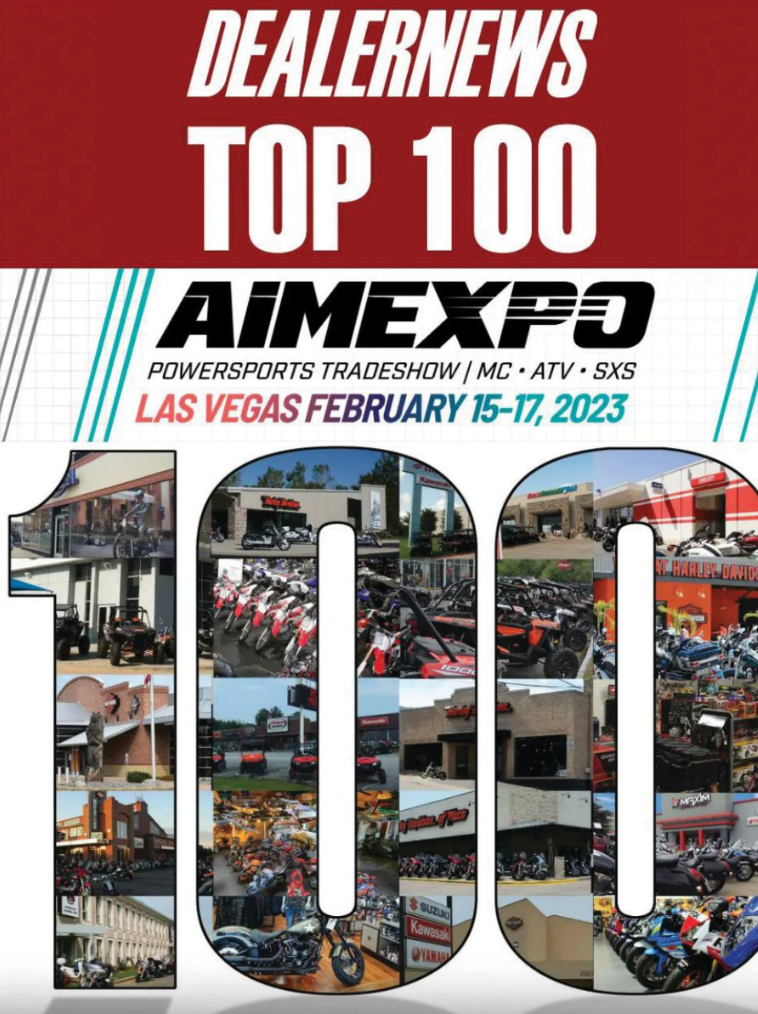 Dealernews brought back its famed Top 100 Dealer Awards – the powersports industry's largest, longest running, and most prestigious retail competition – with an evening tribute at AIMExpo celebrating the dealers that helped build the powersports industry as well as those continuing to shape the future.
Kicking off the Top 100's return was a salute to the grand prize winners from 1992 to 2016.
Click for The Week's Education Schedule and Speaker Lineup
Tomorrow's main stage speakers are Cinnamon Kernes of the MIC and Andy Leisner of PADI (talking about market expansion at 9:30 am), and David Savlowitz and Michael Ponton of Competitive Analytics (giving a market outlook recap at 11 am).

Presenting Friday 9 am at New Product Central
Dainese
Discover the Dainese Motorcycle 2023 sports collection for the road and for the track. Racing leather suits for maximum performance on world championship circuits, leather jackets, leather pants, gloves with titanium and carbon protectors, racing and sports boots to wear under or over the suit, thermal and breathable base layers, and protectors. The safety of maximum freedom in all conditions.
Visit Dainese at booth 5099.
Presenting Friday 9:45 at New Product Central
Forcite Helmets
The Forcite MK1S helmet powers rides with an integrated HD camera, in-built Harmon Kardon speakers, and a patented peripheral vision light display that pairs with the Forcite app to give riders road and navigation alerts.
Visit Forcite at booth 7084.
Presenting Friday 10 am at New Product Central
LeadHelm Lead Management Software
Digital Lead Performance is launching its new web-based digital lead management software, LeadHelm, to help dealers save time, be more efficient and quickly see predictable and accurate results as the customer progresses through their digital buying journey. From lead to conversion, this software guides dealership staff, step-by-step, to ensure the best online experience possible. LeadHelm also prioritizes leads, and groups them into organized segments, so the dealership staff knows the real-time status of every lead in the system. This revolutionary new digital lead management tool streamlines and records data for the duration of the digital sales process, including lead disposition, follow-ups, and conversation history. LeadHelm's more organized and meticulous way of interacting with the customer helps dealers sell more units, faster by simplifying the digital sales process.
Visit Digital Lead Performance at booth 4046.
Presenting Friday 10:15 am at New Product Central
Kayo
Kayo is an off-road powersports manufacturer aiming to bridge the gap between cheap, low-end powersport products and the more expensive well-known brands. Since 2002, the focus at Kayo has been youth and entry level powersports products built with an emphasis on strength, simplicity, dependability, and affordability. Kayo USA has been supplying to the US since 2016 with operations based out of California, Texas, and Tennessee.
Visit Kayo at booth 4019 and 5019.
Exclusive AIMExpo Benefit for MIC Members Only
MIC members are invited to enjoy exclusive, complimentary benefits inside the MIC Business Center. On Friday, it will be open 8 am to 2 pm for all MIC members. And that includes breakfast and lunch.
Amenities in the members-only MIC Business Center include: workstations with charging capabilities, a lounge area for breaks, laptop and printer access, private meeting rooms for up to eight people, and secure luggage storage.
There are also complimentary beverages and coffee, complimentary lunch, plus MIC and AIMExpo staff on-hand to answer questions.
Please note that lunch and meeting rooms are on a first-come, first-serve basis and there is a two-hour max each day, per company, for the rooms.
The MIC Business Center is on the South Hall Upper Level at the Las Vegas Convention center, booth 100.
MIC Business Center Hours
Friday: 8 am to 2 pm
AIMExpo Exhibitor Credit and Much More
The MIC has a lot to offer members – far-ranging benefits, not only for companies, but for powersports as a whole. With legislative matters, with public land issues, businesses do much better standing together as one powerful industry force.
We support MIC members through regular communication about our tangible membership benefits: advocacy, industry research, market expansion through Ride With Us, as well as our monthly symposiums that provide professional development opportunities and keen insights on industry trends.
Plus, MIC members earn a $200 credit per 10′ x 10′ of AIMExpo floor space, with a maximum up to 50 percent of total annual MIC dues.
AIMExpo attendees who are not yet MIC members are invited to contact and meet with MIC staff inside the Business Center, Tuesday through Friday. A wide variety of powersports businesses can join and benefit from MIC membership. And any powersports dealer can join the MIC for only $495 a year. Learn more at the MIC Business Center on the South Hall Upper Level at the Las Vegas Convention center, booth 100.